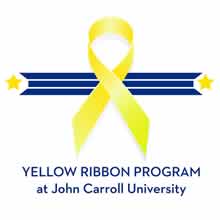 Through the Yellow Ribbon Program, a college or university can volunteer to participate (at various levels) with the Department of Veterans Affairs in order to provide additional education funding for student veterans. John Carroll has committed to 100% participation in this program so that eligible veterans can achieve a high quality education at a private university with no cost to them.
Details on the Yellow Ribbon Program at John Carroll
Because we participate in the Yellow Ribbon program, the VA agrees to match any institutional funding (scholarships/grants) that the veteran receives from their institution. At John Carroll, this takes the form of the Patriot Award.
Through this agreement, and fund matching from VA, it is possible for eligible veterans to receive up to 100% coverage of tuition and fees.
The Yellow Ribbon Program is available for students at the Undergraduate AND Graduate level.