The John Carroll Young Writers Workshop (for students grades 8-12) will take place on July 18-22, 2016, on the campus of John Carroll University, featuring award-winning creative writing faculty from John Carroll University and beyond.  
Students participate in a rigorous and inspiring program that provides an introduction to the art and craft of poetry, short fiction, and creative nonfiction. In morning and afternoon sessions, students study with acclaimed writers and professors, engaging in writing-intensive exercises designed to address the elements of craft: form, voice, character, image, scene, and setting.
In addition, students will participate in lively workshop sessions in which they will read and discuss each other's work with an eye toward revision. Students will also read and discuss the work of established authors, investigating the strategies they use to craft their poetry and prose.
Finally, students will have a one-on-one conference with their core faculty member.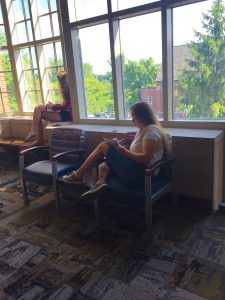 Daily Schedule
9-10 a.m.         Poetry
10-11 a.m.       Guided Writing
11 a.m.-noon    Poetry Workshop
Noon-1 p.m.     Lunch/Writing Lab
1-1:30 p.m.      Conferences
1:30-2:30 p.m.  Reading/Talk
2:30-3:30 p.m.  Stories
3:30-4:30 p.m.  Guided Writing
4:30-5:30 p.m.  Stories Workshop