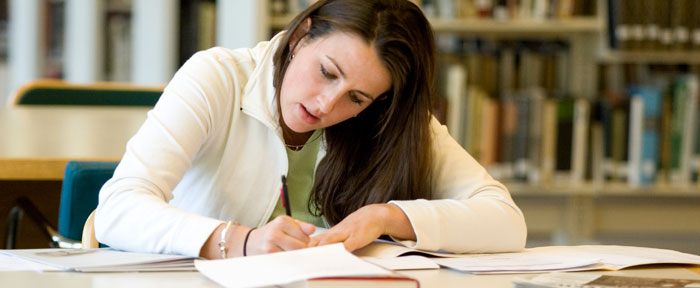 Who are the JCU Writing Center consultants?
The graduate and undergraduate consultants of the JCU Writing Center are students, scholars, athletes, Greek community members, volunteers, and writers just like their peers.  They represent a fair cross-section of the university, majoring in disciplines from English to Education to International Business to Exercise Science.  As sophomores, juniors, seniors, and graduate students, they have taken classes within their major fields of study and across the curriculum.  Like you, they understand how stressful and challenging writing can be, and identify their own strengths and weaknesses when it comes to writing for college courses.
Types of papers:
In our Writing Inventory, 100% of consultant respondents said that they have written many reflection, literary analysis, and summary and analysis papers.  About 70% of the consultants have written research papers and creative writing assignments.  A few have experience writing lab reports and other articles written in a journalistic style.
Aspects of writing:
Based on prior instruction, personal strengths, and writing styles, each consultant identifies a unique combination of the aspects of writing that he or she feels best about.  When selecting their strongest skills, the categories included: grammar, organization, thesis statements, transitions, documentation, brainstorming, integrating quotes, incorporating outside sources, summary, analysis, and introduction and conclusion paragraphs.  Though we can talk with students about any aspect of writing, if there is one particular skill that you need specific help with, we can identify a consultant that is strong in that area.
Subject-specific writing:
Reflecting the Core requirements at JCU, all of the consultant respondents have written papers for English courses.  70% have written papers for Philosophy courses.  Some others have completed a number of writing assignments for Education, Psychology, Religion, Communication, Art History, and Health & Medicine courses at all levels.
Student populations:
Newer consultants often identify undergraduate students (especially freshmen and sophomores) as the students they are most comfortable working with, mostly because younger students visit the Center more frequently. As the consultants gain more experience, they become more acquainted with upperclassmen, graduate students, and nontraditional students.
We are also experienced with working with students whose native language is one other than English.  Most of our undergraduate
consultants received preliminary ESL (English as a Second Language) training.
Students with accommodation requests are welcome in the Writing Center.  We are more than happy to do what we can to
make your session successful.  Two consultants on the staff are very experienced in working with students with
disabilities; if you seek more specialized assistance, please see our "Meet the Staff" page for more information.
Writing Strengths
It's important for every writer to know his or her own skills and strengths when it comes to writing! Writing is difficult for everyone, so knowing what you're good at can help lessen the stress of composing an essay. Here's what some of our consultants have identified as their personal strengths as writers:
"Organization and setup among and with paragraphs, and providing proof with quotes and citations."  –Katie Lynch
"I love adding a creative flair to papers, especially in openings and conclusions.  I like analyzing ideas in different, unusual ways.  I am also good at making my ideas more concise once I've written the first draft or two."  –Julia Blanchard
"I believe I can adequately express my ideas in a way that supports a complicated/deep subject.  I also believe I am good at
grammar, spelling, and vocabulary use." –Leah Tremaglio
"I'm very good with grammar.  Also, I understand the finer points of when grammar transitions into stylistic choice."  –Erin Manning
"Finding important details, punctuation, brainstorming, planning when to have things done, and summarizing."  –Nathan Noga
What are YOUR strengths as a writer?  Come in and tell us!