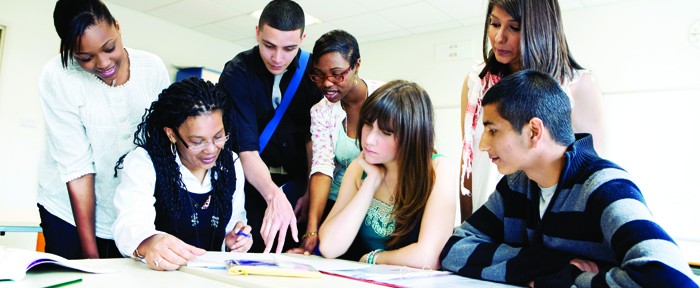 John Carroll University is proud to partner with the Cleveland Metropolitan School District in this exciting new program to attract, train and ultimately retain talented science and mathematics teachers in high needs Ohio high schools.  It is specifically designed for talented, committed individuals with degrees and/or significant work experience in science, technology, engineering or mathematics (STEM) fields.
This prestigious Woodrow Wilson Ohio Teaching Fellowship provides a $30,000 stipend and admission to an innovative, clinically-based masters of education degree program that results in licensure for grades 7-12 mathematics or science in 1 year.  We offer licensure in: mathematics, chemistry, life science, physics or dual licensure in life science & chemistry or physical science (chemistry & physics).
The curriculum was developed by a talented team of JCU faculty from the departments of education & allied studies, biology, chemistry, mathematics & computer science, and physics, as well as Cleveland Metropolitan School District teachers and administrators.  The program involves a full summer of coursework followed by a full academic year embedded in a CMSD classroom with a mentor teacher, while taking additional integrated coursework.  Fellows will complete the masters degree requirements the following summer, taking their last 4 credits.
In May 2013, the third cohort of Fellows began their journey toward becoming professional educators.  Click here to read the announcement of the third cohort of Woodrow Wilson Ohio Teaching Fellows made in May 2013.
Hear from a Woodrow Wilson Ohio Teaching Fellow here. Click here for a testimonial from a Dayton principal.
The application to apply to be a 2014 Fellow is now open.
In addition to this program, JCU offers a range of other options for post-baccalaureate licensure and masters degrees in education.  Links to those programs may be found to the right.
Our 2012-13 partner schools were:  Garrett Morgan School of Science, John Hay, Cleveland Heights High School (CH-UH district).

This prestigious opportunity at John Carroll, supported by the Woodrow Wilson National Fellowship Foundation and the Choose Ohio First program of the University System of Ohio.