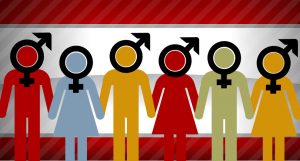 Programs of Study:
The interdisciplinary offers both a major and minor. The requirements are intentionally flexible enough to allow students to focus on the areas of interest and to allow it to fit well with other (second) majors and minors on campus. Directions for declaring a WGS major or minor can be found here.
Students who complete a major or minor in the program will learn to:
Articulate a critical understanding of the impact of gender and sexuality within their own lives.
Describe how constructions of gender/sexuality have socially, historically, and globally shaped the experiences of both women and men.
Describe the importance within people's lives of the intersections of gender and sexuality with other social hierarchies such as race, ethnicity, class, religion, and disability.
Analyze gender and sexuality using interdisciplinary and feminist theories, methodologies, and paradigms.
Identify ethical and social justice dimensions and implications within the study of gender/sexuality.
Demonstrate the development of knowledge and skills to deal positively with gender and sexuality-based inequality within their communities.