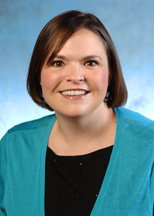 Megan E. Dzurec, MPH, CHES
Coordinator of Health Education and Promotion
mdzurec@jcu.edu
Megan Dzurec, MPH, CHES, Coordinator of Health Education and Promotion in Student Affairs, joined John Carroll University in the fall of 2010. Prior to joining John Carroll, Megan served as the Director of Health Policy at the Children's Defense Fund Ohio, working with federal and state legislators, key stakeholders, and community members regarding advocacy issues regarding children.
Before relocating to her home state of Ohio, Megan worked in the Department of Health Promotion and Prevention Services at the University of Southern California in Los Angeles. Megan holds a Bachelor degree from Ohio University (1997) and a Master of Public Health degree from Saint Louis University (2000). In addition to working, Megan enjoys painting, sports, and spending time with her family.