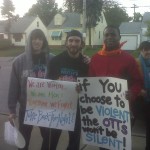 Bringing in the Bystander
This is your opportunity to make a real difference in the lives of others by helping to lower the number of sexual and relationship violence incidents. Bringing in the Bystander teaches you how to look for subtle clues to identify a potential sexual violence, relationship violence, or stalking situations, provides you with tools to safely directly or indirectly intervene, and addresses the socials barriers to intervening. Research has shown the program to be successful in actively engaging students in positive bystander behavior with the end of result of fewer incidents of violence. For more information or to sign up for the next training please email Stephanie Cerula at scerula@jcu.edu.
H.O.P.E. Help Others Protect Each Other
H.O.P.E. is a new student group who envision a John Carroll campus where sexual violence and relationship violence does not exist. They strive to accomplish this through promoting: awareness, community prevention, healthy relationships, healthy masculinity, and empowerment. Some activities include presenting to groups of students, hosting speakers and trainings, and creating awareness through social media.  If you are interested in finding out more about H.O.P.E or joining please contact Nick Crismali at ncrismali14@jcu.edu.
Take Back The Night (TBTN)
Take Back the Night is a student organization committed to working toward ending sexual violence and domestic violence. They also strive to a provide a voice to those who have been impacted by these issues. TBTN organizes a week-long series of events that occur in April to bring awareness about these issues to the John Carroll community. If you are interested in finding out more about the organization or joining please contact the advisor, Stephanie Cerula, at scerula@jcu.edu
Volunteer at VPAC
VPAC has several opportunities for students to become involved. VPAC finds that involving students in the formation and execution of projects and programs helps to ensure a more effective final product. If you are interested in finding out about the various volunteer opportunities please contact Stephanie Cerula at scerula@jcu.edu or 216.397.2175.