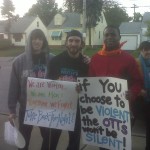 Take Back The Night (TBTN)
Take Back the Night is a student organization committed to working toward ending sexual violence and domestic violence. They also strive to a provide a voice to those who have been impacted by these issues. TBTN organizes a week-long series of events that occur in April to bring awareness about these issues to the John Carroll community. If you are interested in finding out more about the organization or joining please contact the advisor.
Volunteer at VPAC

VPAC has several opportunities for students to become involved. VPAC finds that involving students in the formation and execution of projects and programs helps to ensure a more effective final product. Individuals interested in volunteering with VPAC may contact Amanda Cottrell at acottrell@jcu.edu.