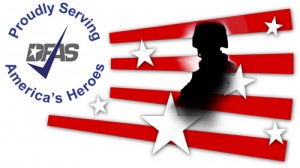 The Defense Finance & Accounting Service (DFAS) provides employment opportunities for men and women who honorably served on behalf of our nation. A DFAS career offers you an opportunity to work in an award-winning organization and serve our nation and warfighters who defend it worldwide. In addition to the featured DFAS careers, there are many other opportunities typically found in large accounting organizations. All of these functions have a direct impact on the mission and welfare of the U.S. warfighter. As a DFAS civilian employee, you can continue to play an important part in that mission by helping support our nation's military in the Department of Defense (DoD).
DFAS Careers include:
Accounting

Auditing

Financial Management

Program Analysis

Human Resources

Information & Technology

Contracting

Mission Support
To Apply:
Email the following documents to hiringheroes@dfas.mil:
Resume

DD214

Letter indicating service-connected disability rating
To view DFAS open vacancies and apply online, please visit USA Jobs, the federal government's official job site.  www.dfas.mil/careers.html
We recognize Veterans bring tremendous value and skill to DFAS – their leadership skills, team attitude and mission focus are key attributes we consider essential to our agency. If you are looking for an opportunity to work for one of the largest finance and accounting operations in the world, DFAS is the place for you.