Use the links below to request your military transcripts and DD214:
For all branches other than the Air Force, you will use the link for the Joint Services Transcript to send us a copy of your military transcripts. This should be mailed directly to John Carroll's Transfer Admission office. If you need a copy of your DD214, please use the link below. If you have any questions, please don't hesitate to reach out.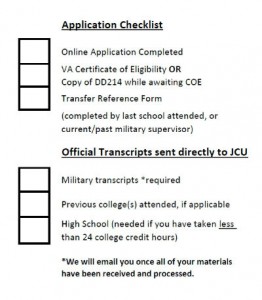 What will we do with your military transcripts?
After receiving your military transcripts, we will review the recommendations by the American Council on Education to determine which classes might transfer in for academic credit. At a minimum, you will receive general elective credit for basic training through our department of military science.