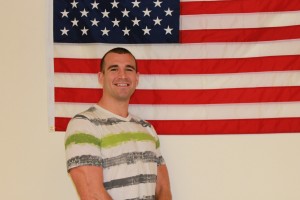 "The veterans program is unique in that Col. Patterson and Krysta Kurzynski will not let you fail. They know who you are and the issues you are dealing with. The camaraderie in the JCU veterans program is strong and facilitates the friendships that most veterans miss after separating from military service." Garrett Lee, class of 2017
---
Transitioning from the military to a campus has its own unique challenges, as does determining exactly how to apply your skills, experience, and interests towards the transition to your professional career. The Assistant Director of Veterans Affairs provides services to transitioning veterans to assist in overcoming these challenges.
Transition Advising Sessions
are designed to provide student veterans with additional resources to make their academic endeavors a success and help plan for future career paths. At these sessions, student veterans are encouraged to address topics such as:
Choosing or changing a major
Choosing or changing a career
Planning / preparing for the future
Any challenges s/he is experiencing
The Advisor for these sessions is a Licensed Professional Counselor with training in Career Counseling, and is available on campus by appointment. You can schedule your Transition Advising session by calling the office at 216-397-1961 or emailing kkurzynski@jcu.edu.
 Professional Development
Throughout each semester, you will have opportunities to participate in professional development experiences with your student veteran peers. Some of these workshops include:
Building or improving a resume
Utilizing LinkedIn
Personal Financial Management
Setting strategic, personal goals
Networking with employers
These workshops are tailored specifically to veterans transitioning from academics to professional careers and are offered on/near campus.