We are happy to answer any questions you may have about John Carroll, the Celebration of Service Program, or what programs might work for you. Please feel free to contact us by phone, email, or we can set up a time for a Skype chat. We understand this next mission is important to your future, so all inquiries will be returned within 1 business day.
Krysta Kurzynski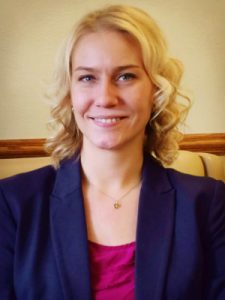 Krysta Kurzynski received her undergraduate degree in Psychology from DePaul University, and her Master's degree in clinical counseling from John Carroll University. Her professional specialty is in working with military veterans as they transition from the military to academia, and from academia to their chosen career.
She joined our team in 2013 and currently serves as the Assistant Director of Veterans Affairs, teaches our student veteran transition class, and serves as the adviser for the Student Veterans Association.
She is originally from Chicago, IL and is a proud fan of the Blackhawks, Bears, and White Sox!