There are several distinctions that highlight JCU as a veteran friendly school…
Military Times Best for Vets: Business Schools 2016 ranked John Carroll's Boler School of Business in the top 50 of the 77 selected institutions nationwide. See the full list here.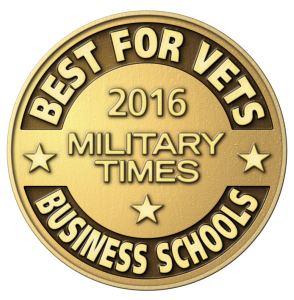 Military Times has once again recognized JCU as one of the Best for Vets: Colleges 2017. Not only did we receive this recognition for being one of the best programs in the country for veterans, John Carroll was the only private school selected in the state of Ohio!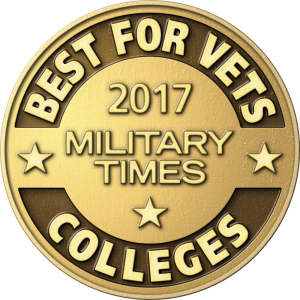 John Carroll has been officially recognized by GI Jobs magazine as a Military Friendly school every year since 2009, placing us in the top 15% of all schools nationwide with respect to our support for veteran students.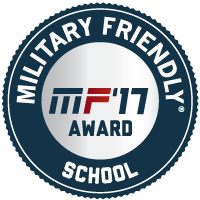 Our veterans have given John Carroll some of the highest "grades" in the state of Ohio!

Principles of Excellence
President Obama signed Executive Order 13607: Establishing Principles of Excellence for Educational Institutions Serving Service Members, Veterans, Spouses and other Family Members on April 27, 2012. These principles were developed to strengthen oversight, enforcement, and accountability of education programs, and to ensure our service members, veterans, and their families have the information they need to make informed decisions concerning their hard-earned educational benefits. John Carroll University is dedicated to ensuring that GI Bill users are applying their education benefits towards academic success and a productive outcome, and we are a signatory to the Principles of Excellence.
The Principles of Excellence guidelines are as follows:
1. Provide students with a personalized form covering the total cost of an education program.
2. Provide educational plans for all military and Veteran education beneficiaries.
3. End fraudulent and aggressive recruiting techniques and misrepresentations.
4. Accommodate Service members and Reservists absent due to service requirements.
5. Designate a point of contact to provide academic and financial advice.
6. Ensure accreditation of all new programs prior to enrolling students.
7. Align institutional refund policies with those under Title IV, which governs the administration of federal student financial aid programs.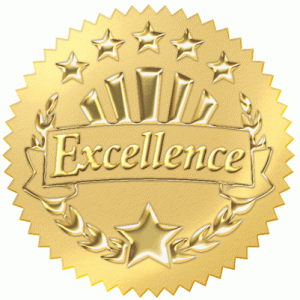 8 Keys to Veterans' Success
By affirming support for the 8 Keys to Veterans' Success, the institution is expressing its commitment to implement the promising practices outlined in the 8 Keys, as follows:
1. Create a culture of trust and connectedness across the campus community to promote well-being and success for veterans.
2. Ensure consistent and sustained support from campus leadership.
3. Implement an early alert system to ensure all veterans receive academic, career, and financial advice before challenges become overwhelming.
4. Coordinate and centralize campus efforts for all veterans, together with the creation of a designated space for them (even if limited in size).
5. Collaborate with local communities and organizations, including government agencies, to align and coordinate various services for veterans.
6. Utilize a uniform set of data tools to collect and track information on veterans, including demographics, retention, and degree completion.
7. Provide comprehensive professional development for faculty and staff on issues and challenges unique to veterans.
8. Develop systems that ensure sustainability of effective practices for veterans.
John Carroll University Distinctions
#3 "Strong Commitment to Undergraduate Teaching" – U.S. News and World Report 2013 "Best Colleges" edition.
#6 "Great Schools, Great Prices" category – U.S. News and World Report 2013 "Best Colleges" edition.
#7 among universities in the Midwest offering master's programs. – U.S. News and World Report 2013 "Best Colleges" edition (24 consecutive years of being in the top 10).
Boler School of Business holds dual AACSB accreditation placing it in the top 5% of business programs worldwide