John Carroll University, in partnership with US Army Recruiting Command in Cleveland and a consortium of northeastern Ohio campus veteran programs, devised and implemented a creative approach to educating future veterans about their GI Bill® benefits. This joint effort began over a year ago to accomplish four specific objectives:
1 – Inform Future Soldiers about their GI Bill® benefits before they ship out to Basic Training/AIT/OSUT
2 – Encourage veterans to return to Cleveland to provide leadership to the community
3 – Assist USAREC with Future Soldier training and retention
4 – Advise Future Soldiers of the full range of veterans programs, to include campus student veterans programs, awaiting them upon their return to Cleveland
During a campus orientation, Future Soldiers come to campus as a group, receive an information briefing about the GI Bill®, learn about the various colleges/universities and their student veteran programs, get a tour of campus, have a meal together with the student veteran program coordinators, and even attend a sporting event if one is available.
If you are a Future Soldier (or family member) and are not able to attend the Orientation in person, you are welcome to watch the presentation above and contact us with any further questions!
Future Soldier Campus Orientation
CPT Jose Rivera, former commander of the Metro Recruiting Company, wrote an article about the Future Soldier Campus Orientation program in the May-June 2012 issue of The Recruiter Journal. Check out the article on page 12!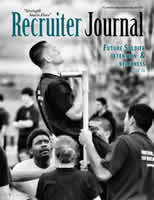 If you are a Future Soldier, or if you are considering enlisting, then ask your recruiter about attending an upcoming Future Soldier Campus Orientation!