You answered the call of national service and put your life on the line for our country, and at John Carroll University, the Celebration of Service program was created to honor that military service. Our mission is to provide our nation's veterans with the opportunity to earn a high quality Jesuit education, and exceed their academic, personal, and career goals. Not only have we been awarded the designation as a Military Friendly School 7 years in a row, we are also known as one of the best universities in Ohio, particularly for our business programs.
John Carroll has a long history of being a military friendly campus, and today's veterans returning to use their Post 9/11 G.I. Bill®  have the opportunity to join this extensive network of alumni.  If you are eligible for 100% benefits under the Post-9/11 GI Bill®, then you can attend John Carroll University full-time without any out-of-pocket costs for tuition! (Click here to find out how).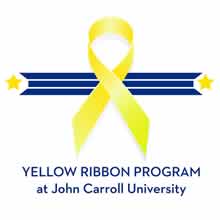 Like many Universities, John Carroll awards academic credit for military training and has a certifying official on campus who is familiar with the Post 9/11 G.I. Bill®; but unlike other institutions, the Celebration of Service Program includes a great deal more.
We go above and beyond the basics of getting you enrolled, and really focus on helping you succeed throughout your time at John Carroll. Our Office of Veterans Affairs will be actively supporting you every step of the way until graduation, and beyond. We even have multiple staff members dedicated to assisting student veterans in their transition from military to academics to career.
We encourage you to read further about the details of this program, and hear from our current student veterans about their experiences at John Carroll University. You can even take a virtual tour of the campus. When you are ready to find out more, or if you have questions, you can contact us directly by phone or email. Since we know how important your education is, we will respond to your contact within 1 business day. You can also schedule a campus visit.
Thank you for your service, and we look forward to having you join our team!