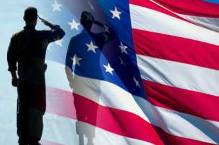 In honor of Veterans Day, the Office of Veterans Affairs, Office of Mission & Identity, Student Veterans Group and the ROTC program will celebrate the honorable service of local Veterans, including those at JCU. We would like to provide an opportunity for all members of JCU and the local community to show their support of Veterans' service in various ways:
 View the "Veteran Story" rolling presentation in the Student Center Atrium that highlights Veteran accomplishments throughout history.
 Honor Veterans who have given the ultimate sacrifice at a Wreath Laying Ceremony at 11:11 A.M. at the St. Ignatius Statue.
 Participate in an interfaith Prayer Service at 12:30 P.M. in the St. Francis Chapel.
 Comment on what Service, Honor, Loyalty, Courage or Commitment mean to you on posters placed at various locations around campus.
The Veterans Booth will be in the Student Center Atrium from 9:00am -4:00pm on November 11th.  All Veterans are invited to stop by for breakfast refreshments from 9:00-11:00 A.M. and to receive a yellow ribbon pin.