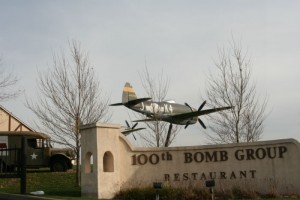 The John Carroll University Alumni Veterans Group was established in 2013 and is dedicated to celebrating the long tradition of military service performed by our graduates. On Wednesday, November 20th, a collaboration of generations helped to kick off the first gathering of this new Alumni Group. To celebrate its innaugural convocation, a luncheon was held at the 100th Bomb Group Restaurant in Cleveland, Ohio. We were proud to have four of our current student veterans in attendance to fellowship with their brethren in arms.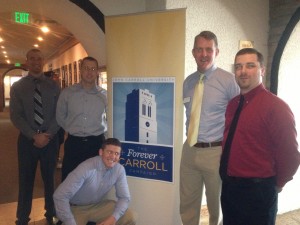 From L-R, Garrett, Darren, Dennis, LTC Patterson, and Jeff
The guest speaker for the afternoon was our very own Eric Patterson, US Army, Retired, and Director of the Veterans Affairs office at John Carroll. As many of the attendees were participants in the ROTC program during their tenure at JCU, Eric was happy to update them on the outstanding national recognition of our current ROTC program. However, the main topic of the talk was on the growth and development of the Celebration of Serivce program for veterans returning from service to start (or continue) their education at John Carroll. Many of the veteran alumns were impressed with the program and eager to hear more.
All around, this luncheon was an excellent time for veterans across several generations to come together and celebrate their shared service for America and John Carroll University.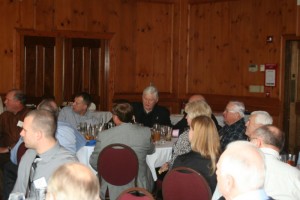 Posted on November 21, 2013