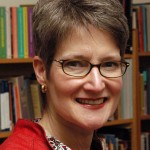 Professor Kelley E. Spoerl
2008-2009 Tuohy Chair Holder

Dr. Kelley E. Spoerl is Associate Professor of Theology at Saint Anselm College, where she has taught full-time since 1996. She was educated at Wellesley College (B.A.), the Harvard Divinity School (M.T.S.) and the University of Toronto (Ph.D). A specialist in early Christian theology, she has published articles in such journals as the Harvard Theological Review, The Journal of Theological Studies, and Studia Patristica on fourth-century Greek trinitarian thought. At Saint Anselm, Dr. Spoerl teaches courses on western civilization, biblical theology, Christian spirituality, and women's contribution to the Catholic tradition.
2008-2009 Lecture Series: "Catholic Women Encountering Religious Pluralism"

Catholic women have long been at the forefront of the Church's efforts to evangelize an unbelieving world and to serve the vulnerable and marginalized. Often, they have been active in pluralistic religious environments, which both helped and hindered their efforts and shaped their understanding of their mission. These lectures will lay out the biographies and achievements of several representative women since the beginning of the modern era who were active in multi-faith social contexts. In addition to presenting how they served the Church of their day, these lectures will highlight the differing attitudes these Catholic women took to the pluralism they encountered in the course of the ministries they undertook.
March 10: Mary Ward and the Jesuitesses

Mary Ward (1585-1645) was an English Catholic during the early seventeenth century when Catholicism was outlawed. Inspired by the heroic example of Jesuits such as Edmund Campion, she established a new religious order, the Institute of the Blessed Virgin Mary, modeled on the Society of Jesus, to minister to Catholics suffering under Anglican oppression and to educate Catholic laywomen for the day when she hoped Catholicism would be restored in England. Like the Jesuits she admired, Mary Ward ran huge personal risks in conducting her activities – sometimes aided, sometimes hindered by agents of the English crown and members of the state-sponsored church. But the greatest danger she suffered came at the hands of the Roman Catholic hierarchy who condemned her innovative form of female religious life.
March 17: Marie de l'Incarnation Among Native Americans and Huguenots

Daughter of the famous American writer Nathaniel Hawthorne, Rose Hawthorne Lathrop (1851-1926) grew up with close ties of family and friendship to the American religious movements of Unitarianism and Transcendentalism. Converted to Catholicism in adulthood after the death of her only child, and later separated from her husband, she eventually embarked upon a career nursing indigent cancer victims of all faiths and ethnicities on the lower east side of New York. She is the foundress of a religious order in the Dominican family, the Servants for the Relief of Incurable Cancer, which continues its ministry today.
April 7: Caryll Houselander: Divine Eccentric and Prophet of Vatican II

Caryll Houselander (1901-1954) was a British Catholic spiritual writer of the 1940s and 50s. Her spiritual autobiography, A Rocking-Horse Catholic, recounts a very contemporary-sounding journey through a variety of religious commitments when she was a young woman. Baptized an Anglican at birth, she entered the Catholic Church as a child, only to leave it in adolescence to embark upon explorations of Judaism, Buddhism, Russian Orthodoxy, and several Protestant denominations. Though her return to Catholicism in the 1920s was sincere and permanent, Houselander nevertheless remained fascinated for the rest of her life with other religions and other expressions of Christianity, and eventually strove to integrate persons of other faiths into her understanding of the Body of Christ. Her understanding significantly anticipated some of the statements of the Second Vatican Council.
April 14: Mother Teresa: The Catching Force

This lecture will be devoted to one of the most well-known icons of Catholicism in the contemporary period: Blessed Mother Teresa of Calcutta (1910-1997), founder of the Roman Catholic religious order the Missionaries of Charity. It will reveal that, perhaps contrary to expectations, this most Catholic of women emerged from obscurity in not one, but two of the most religiously diverse environments on the planet. She was aided throughout her ministry by persons of other faiths, and moreover, welcomed that assistance in a spirit of self-consciously embraced and articulated religious tolerance.