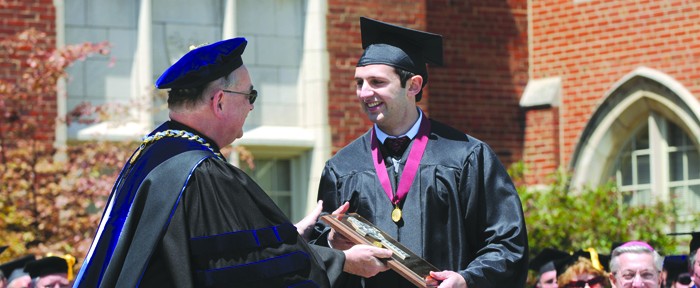 Carson Bay – MA '14
Carson is currently a graduate assistant in the Theology and Religious Studies department.  He recently was named as a "Cook Fellow" for funding/participation in 2012 at Acton University in Grand Rapids.  Carson was accepted/funded to participate in Liberty and Markets: A Co-Sponsored Program of the Action Institute and Liberty Fund, Inc.  Freedom & Responsibility in the Thought of Max Weber.  October 25th – 28th in Grand Rapids.
On May 8, 2016, Carson received a Fulbright U.S. Student Program grant to Germany in Classics and Religion. Carson will be working at the Westfälische Wilhelms-Universität Münster as part of a project to trace multiculturalism in Flavius Josephus. See 2016 Fulbright Press Release.
Jurell Sison – MA' 13
In June, 2014, Jurell accepted a teaching position at St. Edward High School.  He will be teaching theology to sophomores.  Formerly, Jurrell was the Director of Youth and Young Adult Ministries at St. Ambrose Catholic Church in Brunswick, Ohio. He was in charge of the youth group called "FIAT" (Faith in Action Teens). He also directed their youth retreat ministry.
Kristen Pungitore – MA '13
Kristen is currently teaching at St. Joseph's Academy in Cleveland.  She is involved in the CORE ministry department and teaching theology.
Jonathan Ruano – BA '13
Jonathan is currently teaching theology at Elyria Catholic High School.
Sana Loue – MA '13
On September 17, 2012, Sana was appointed the position of Vice Dean for Faculty Development and Diversity at Case Western Reserve University School of Medicine.  In collaboration with the Office of the Dean, the Vice Dean for Faculty Development and Diversity will establish and implement innovative career development programming and initiatives to maximize the professional advancement and retention of our faculty. Dr. Loue also is tasked with developing, planning and guiding the school's strategy for inclusion, which will comprise programs and training to support and foster a respectful workplace and raise the school's profile of faculty equality and diversity. In addition, this position will oversee the School of Medicine's Faculty Affairs and Human Resources office and serve as liaison to the university's central Human Resources office.
In November of 2011, Sana was inducted into the Jesuit Honor Society, Alpha Sigma Nu.  Alpha Sigma Nu, the honor society of Jesuit institutions of higher education, recognizes those students who distinguish themselves in scholarship, loyalty, and service.
Emily Herfel – BA '12
Emily is part of the Columbus Osteopathic Association Executive Team as the Class of 2016 Representative. She has been rotating through her Clinical Rotations and really enjoying the art of medicine. In addition, over the past year Emily has been engaged in running a marathon and half marathon. She volunteered with the medical team for the Columbus marathon and the Arnold Classic med team.
Jared Ward M.A. '12
Jared has been accepted into a doctoral program in Asian Studies at University of Akron beginning fall 2012.
Shannon Edwards M.A. '12
Shannon has accepted a position as Resident Minister at John Carroll University.  She will be responsible for attending to the spiritual needs of her dorm and encouraging students to become involved in campus ministry.  She will also be working as a part-time assistant to Dr. Zeki Saritoprak with the Nursi Chair in Islamic Studies at John Carroll University.
Shannon presented a paper on "Practical Advice and the New Creation:  How John Wesley's Understanding of the 'Last Things' Affected His Sensiblities in the 'Now'" at the John A. Knight Bible and Theology Conference in Mount Vernon, Ohio in February 2012.  Her presentation is now being published as part of an e-book through Mount Vernon Nazarene University.
Megan Odell-Scott – M.A. '11
Megan Odell-Scott has accepted an offer to pursue a PhD at Kent State University with a fully funded graduate assistantship. She will be working towards a PhD in Political Science with a focus on American Politics and Policy. She is excited to study the impact of religion on politics, voting behavior, and policy.
Christine Jaqueth – BA '11
Christine is teaching two freshman theology classes – Moral Theology and Old Testament – at Notre Dame-Cathedral Latin, Chardon, Ohio.  Along with teaching, Christine is a Campus Minister at Notre Dame-Cathedral Latin and a dorm proctor at Gilmore Academy in Gates Mills, Ohio.  She will be co-leading an immersion trip to Nicaragua in Summer 2012.
Jeffrey M. Boudon – BA '11 and Kevin A. Henderson – BA '11
Jeff and Kevin were both recipients of the 2011 Outstanding Graduating Seniors Award in Theology & Religious Studies.  Kevin is now in the Political Science PhD program at the University of Massachsetts, Amherst, after completing a year's service in JVC.
Bridget Ludwa M.A. '10
After graduating from John Carroll University, Bridget accepted a position with the AmeriCorps VISTA as a Veterans Service Coordinator where she has been working for the past two years.  On July 30, 2012, Bridget will begin her new position as Veteran Coordinator at Cuyahoga Community College.
Natalie A. Terry – BA '10
Natalie was the recipient of the 2010 Outstanding Graduating Seniors Award in Theology & Religious Studies.
Natalie recently finished her studies at the Jesuit School of Theology in Berkeley in the Master of Divinity Program. She is now serving as the Director of the Ignatian Spiritual Life Center and Children's Faith Formation at St. Agnes Church in San Francisco (one of the two Jesuit parishes) and is a Resident Minister at the University of San Francisco.
Natalie's latest theological endeavor has been a continous work to restoring the permanent deaconate for women in the Catholic Church and now supporting Pope Francis' call for a theological commission to investigate this possibility.
http://ncronline.org/blogs/simply-spirit/women-want-be-deacons-want-clergy-speak-about-it
Elizabeth England – MA '09
Elizabeth was recently appointed the position of Program Coordinator at FutureChurch in Lakewood, OH.
Emily Leyava – MA '09
Emily is currently working with The Shambala Fellowship program which is a new program intended for graduating or current students interested in NGO work in Thailand, Burma, or Western China. Fellows in Western China will study Amdo Tibetan and/or Mandarin Chinese in addition to their NGO work. Fellows in Thailand and Burma will also have the opportunity to study a language of their choice with a tutor.  The Fellow's NGO work is primarily with Orphanage Without Walls (OWW), the main project of Children of Shambala (COS). OWW is a long-term poverty alleviation program that places orphans with local foster family and provides support for education and basic living costs.  This Fellowship program is unique, because it has no direct cost for the applicants. Fellows are required to fundraise for OWW in lieu of paying a program fee. This gives Fellows valuable experience in fundraising and the option of making a difference in Asia without having to pay excessive fees.
For more information visit our website: www.childrenofshambala.org
Mary Catherine Costello – BA '08
"Being a Religious Studies major and being educated under a vast resource of intelligent and motivated staff has challenged me to think outside the box; to engage myself in ways of life I never would have imagined; and has given me the passion to never stop the love of learning. Currently (summer 2008), I am doing a year of volunteer work at the Amate House program (associated with the Archdiocese of Chicago). I am living in the community and teaching Spanish at an all-female high school."
Brian Bremer – BA '07
Brian was one of two recipients of the Outstanding Graduating Seniors Award in Religious Studies in 2007. He is currently attending law school at the University of Virginia.
Gina Messina – Dysert – MA '07
Gina Messina-Dysert, Ph.D. (G '07) has accepted an appointment at Ursuline College as Dean of the School of Graduate and Professional Studies. Following the completion of her MA in Religious Studies at JCU, Messina-Dysert pursued her Ph.D. in Religion at Claremont Graduate University where she then served as the Director of the Center for Women's Interdisciplinary Research and Education. She also held the position of Visiting Assistant Professor of Theological Ethics at Loyola Marymount University. Messina-Dysert looks forward to returning to the Cleveland area and continuing the JCU tradition of social justice in her new position.
 Linda Kawentel – BA '07
Linda was one of two recipients of the Outstanding Graduating Seniors Award in Religious Studies in 2007. She is currently finishing her M.A. degree at JCU in religious studies. In Fall 2008, Linda will attend law school at Ohio State University.
James E. Menkhaus '03, M.A. '05
"I graduated in 2003 with my BA in Religious Studies and History and returned for my MA in Religious Studies, completing that degree in 2005. I spent two years teaching part-time for the RL department and recieved my PhD in Theology at Duquesne University in 2013.
My work at John Carroll and with the RL department prepared me for the challenges of pursuing my PhD. The professors do an excellent job of stretching their students minds and pushing them to see things in new ways.
My ability to synthesize material and to write reflectively about theological issues can be traced back to my time at JCU. I strongly recommend a major/minor or MA in Religious Studies because it offers you a chance to reflect about what matters most in life, while improving your ability to think, read and write."
Jim received the Outstanding Graduating Seniors Award in Religious Studies in 2003.
Russ Kwitkowski – MA '02
"I wouldn't trade Religious Studies for any other major offered at John Carroll University. Dr. Nuth, Dr. McGinn, and Dr. Kelly have been a tremendous influence and help in planning my future. One of the purposes of religious education is not only to just learn about the faith, but also to strengthen one's spirituality and union with God. Knowledge of God leads to love for God, which leads to service to God. Religious Studies and the professors in the department, have led me to all three!"
Brian Sinchak – MA '01
"My religious studies major afforded me the opportunity to more fully incorporate my faith experience into academic learning. One summer I traveled to Ecuador as part of a volunteer immersion program with a group of students from John Carroll. I complemented this experience of poverty in Latin America with an interdisciplinary ethics course entitled Justice and Economy team taught by a Jesuit moral theologian and an economics professor.
My religious studies major afforded me the unique opportunity to learn how to respectfully challenge, honestly defend, insightfully research, and critically evaluate the ideas, concepts, and values that sustain the world's major religions. In my experience as a religious studies major . . . I discussed the Holocaust with a Rabbi, prayed with an Imam at the local Mosque, analyzed systematic theology with a Protestant minister and scholar, visited the art museum while researching the religious meaning of Buddhist and Hindu art, studies Christology and learned about the historical Jesus while on tour in Israel, reflected on contemporary Catholic theological issues through current events, and worshiped in five different Christian churches as I learned Church history through liturgy. My experience as a religious studies major was nothing short of extraordinarily exciting!"
At this writing in 2010, Brian is president of John F. Kennedy Catholic School (a pre- K-12 Diocesan school with a lower elementary campus and an upper secondary campus) in the Diocese of Youngstown.  www.warrenjfk.com