The Walter and Mary Tuohy Chair of Interreligious Studies was founded by Mr. Walter Tuohy, former vice chairman and chief executive of the Chesapeake and Ohio Railroad. He was a dedicated Catholic layman, and active member of the National Conference of Christians and Jews, and a zealous promoter of religious understanding.
Under the auspices of the Tuohy Chair, the University offers a series of courses and free public lectures on interreligious topics. This program is designed to bring scholars of major religious traditions to campus for dialogue with students, faculty, religious leaders, and the general public.
---
Listen to an NPR  interview with Archbishop Michael Fitzgerald, 2014-2015 Tuohy Chair Fellow, on "Learning About the Qur'an from a Catholic Archbishop" – April 2015.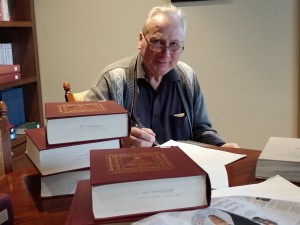 Archbishop Michael Fitzgerald
2014-2015 Tuohy Chair Fellow
Click here to listen to Archbishop Michael Fitzgerald's lecture series on "Praise the Name of the Lord:  Meditations on the Most Beautiful Names of God."