The Walter and Mary Tuohy Chair of Interreligious Studies was founded by Mr. Walter Tuohy, former vice chairman and chief executive of the Chesapeake and Ohio Railroad. He was a dedicated Catholic layman, and active member of the National Conference of Christians and Jews, and a zealous promoter of religious understanding.
Under the auspices of the Tuohy Chair, the University offers a series of courses and free public lectures on interreligious topics. This program is designed to bring scholars of major religious traditions to campus for dialogue with students, faculty, religious leaders, and the general public.
---
Listen to an NPR  interview with Archbishop Michael Fitzgerald on "Learning About the Qur'an from a Catholic Archbishop" – April 2015.
Spring 2015 Tuohy Lecture Series
PRAISE THE NAME OF THE LORD: Meditations on the Most Beautiful Names of God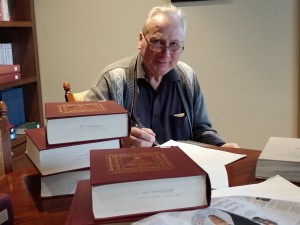 Archbishop Michael Fitzgerald
2014-2015 Tuohy Chair Fellow
Monday Evenings, March 9 – 30, 2015 at 7:30pm
Donahue Auditorium, Dolan Center for Science and Technology
John Carroll University
The lecture series is free and open to the public – no reservations.
Free parking on campus.
**********************************************
March 9, 2015
Religious Cross-Fertilization
"One of the best ways of understanding a people is to meditate on the texts they use for prayer."
This is the inspiration for an experiment in retreat-giving which can be considered an inter-textual exercise. The starting point is the Islamic tradition concerning the 99 Most Beautiful  Names of God which are derived from the Qur'an. These Names are seen to be both a bridge and an invitation to the person who wishes to come closer to God and to submit to God's will. Is meditation on these Names reserved to Muslims? Can those who are not Muslims, Christians in particular, be enriched by reflecting on them? What echoes of these Names can be found in the Christian Scriptures, both in the First Testament and in the New Testament?  How can meditating on the Names of God be combined with the tradition of the Spiritual Exercises of Saint Ignatius? Is this a legitimate exercise? This introductory talk will lead to a series of meditations for the season of Lent, considering texts from the Qur'an, the Torah and the Prophets, The Gospels and the Letters of St Paul.
March 16, 2015
Praise Belongs to God, the Lord of the Universe
Everything starts with creation, or rather with God, the Creator, the Originator, the Shaper. The Qur'an exalts the Creator who is seen to give special attention to the creation of the human being. We are invited to place ourselves before this God with thanksgiving in our hearts for all that He has done, and is doing, for us. Yet while God is the Manifest or the Patent (al-ẓâhir) who makes Himself known through His creation, he is also the Hidden or the Latent (al-batin) who cannot be fully known. It is salutary to reflect on divine transcendence, on the holiness of God. This leads to praise addressed to God for what He is, and not for what He does. It leads to a form of prayer which is entirely disinterested, which is not aimed at obtaining something from God. Yet we may discover that God, without our asking, will shower His gifts upon us, for He is the Living One, our true source of Life.
March 23, 2015
In the Name of the Merciful God of Mercy
The Creator God, the God Most High, is also the All-Knowing. God knows of what we are made, knows our weaknesses. But the Almighty God is also mighty in love, a God of tenderness and mercy, a God always ready to grant pardon. When we reflect on the pardon of God, which is always offered, or rather on God who pardons, we make the strange discovery that this God is also a God of anger.  How are these two compatible? If we, as human beings, are called to imitate God, can we reflect in our lives both the Justice and the Mercy of God?
March 30, 2015
You Alone Do We Adore, You Alone Do We Ask for Help
God is King of Kings and Lord of Lords. God alone is worthy of worship and of service without compromise. How do we react to the attitude of Pharaoh who puts himself in the place of God? What does it mean to be in the service of a King who reigns from the Cross? Will we not always have to ask God to guide us along the way, so that in the end we may arrive at that Peace which, in the final analysis, is identified with God, whose Name is Peace?
Michael Fitzgerald was born in Walsall (U.K.) in 1937. Ordained priest as a member of the Society of Missionaries of Africa (White Fathers) in 1961, he obtained his doctorate in theology from the Pontifical Gregorian University (1965) and a B.A.hons in Arabic from the School of Oriental and African Studies, London University (1968). After teaching at Makerere University, Kampala, Uganda and at the Pontifical Institute of Arabic and Islamic Studies, Rome, there followed two years of pastoral work in Sudan. After a period on the General Council of the Missionaries of Africa 1980-1986, there came in 1987 an appointment as Secretary of the Secretariat for Non Christians, now Pontifical Council for Interreligious Dialogue. In 1991 Fr Fitzgerald was appointed titular bishop of Nepte and was ordained by Pope John Paul II on 6 January 1992. On 1 October 2002 he was appointed President of the Pontifical Council for Interreligious Dialogue and was raised to the rank of archbishop. On 15 February 2006 he was appointed Apostolic Nuncio in Egypt and Delegate to the League of Arab States. On his retirement in October 2012, he took up residence at Ste Anne's, Jerusalem. He is author (with R.Caspar) of Signs of Dialogue. Christian Encounter with Muslims (1992); Dieu rêve d'unité. Les catholiques et les religions: les leçons du dialogue. Entretiens avec Annie Laurent (2005); (with John Borelli) of Interfaith Dialogue. A Catholic View (2006), and of numerous articles in Concilium, Islamochristiana, Pro Dialogo, Gregorianum, Origins etc.
For more information about the lecture series, contact the Department of Theology & Religious Studies at 216-397-4700.