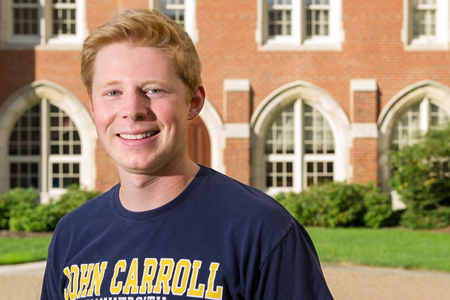 Class of 2018
Hometown: Grand Rapids, Michigan
High School: Catholic Central High School
Major: Political Science
I thought I was going to another university when I graduated high school, but then I visited John Carroll University. My principal in high school, who I greatly admired, graduated from JCU. He convinced me to at least take a tour of John Carroll. So after I spent a weekend at the other institution, I took a tour of our beloved school. In the middle of the tour I turned around to my mom and said, "This is it. I'm coming to John Carroll." I never looked back after that. John Carroll is home. You hear that a lot at different schools but here, we mean it. What makes John Carroll different from other schools is the sense of community we have here. One of the first things I noticed about John Carroll was how everyone seemed to watch out for everyone else. That has remained true during my entire time here.
The opportunities John Carroll has provided me are truly astounding. I have worked with ABC News, met critically acclaimed authors and speakers, and had career options open up that I would not have had if not for this university.
So, did I at least convince you to take a tour?