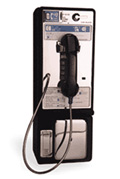 There are two payphones located on campus for your convenience.
The first is located on the first floor of the Administration Building in the main lobby, just across from Kulas Auditorium, and is equipped with a TTY drawer for the hard of hearing.
The second is located in the basement hallway of the B-Wing, just between the Administration Building and the O'Malley Center.
If you've lost money in one of the payphones, please access the ITS Service Request Form to request a refund. Please allow up to seven business days for a refund.