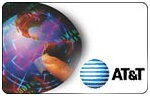 The ITS Department can provide University employees with an AT&T Long Distance Calling Card to be used in conjunction with University-related business.
These cards are issued to employees who need to make official business calls from OFF-NET telephones. General use instructions are contained on the back of the Calling Card.
The number on the card will be identified with your department. Your calls will be indentified by this number and your department will be billed the cost of each call. Precautions should be taken to prevent the use of this card by unauthorized persons.
The Calling Card will be billed at the same per minute rate that we receive when placing long distance calls from our campus telephones.
To request a card, fill out the ITS Service Request Form.
NOTE: Your department head or chair must authorize approval.