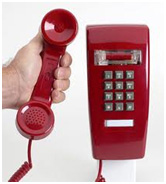 There are a number of Courtesy Phones located in most buildings on the John Carroll campus. These phones are easy to locate as they are red in color. The only exception would be those phones located in the entrance lobby of each of our eight residence halls.
The courtesy phones are restricted from dialing any off-campus, local, or long distance number with the exception of an Emergency 911 call. The courtesy phones are intended only for dialing on campus, 4-digit telephone numbers. Each courtesy phone is equipped with an amplified handset.
To reach Campus Safety Services from any of these phone simply dial extension 1234. The John Carroll Switchboard Operator can be reached by dialing 0.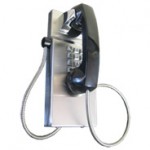 Each of our eight residence halls are equipped with Convenience Phones for local public access. These telephones are wall mounted in hallways or other high access areas in each residence hall.
The convenience telephones can call any on campus, 4-digit telephone number, as well as local and toll free numbers, including Emergency 911 calls.
There is at least one convenience phone per floor, with the larger dorms having several per floor. Long distance calling is restricted on these phones.
NOTE: The phones located at the main entrance to each of the residence halls are not able to dial off campus, and are courtesy phones and not convenience phones, although they look similar