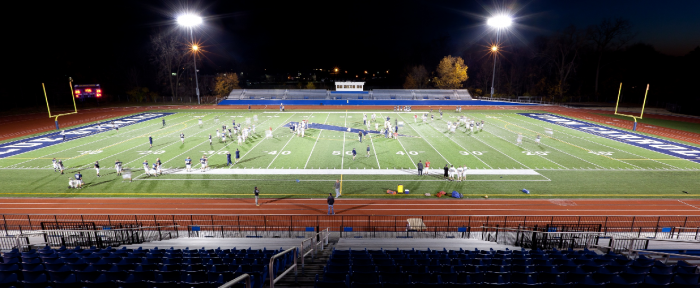 DESIGN & CONSTRUCTION PROJECTS:
Leadership in Energy & Environmental Design (LEED) best practices are being employed in all renovation and construction projects;
Specify Rubber flooring, vinyl tile and carpet with recycled content
Material and furniture selections are sought from "Green" suppliers and manufacturers.  This means low or no VOC's, recycled or sustainable material, minimum packaging, high durability and long life-cycles to reduce waste downstream
New energy efficient windows were added to both the Schott dining hall and RecPlex conference rooms in the 2008 renovation.
Energy efficient and Energy Star products are specified, when available
Non-hazardous construction and demolition waste is diverted from landfills
Crushed concrete from Bohanon Science Center used as fill under new parking lot
Crumb Rubber (ground recycled tires)used as infill for synthetic turf field at Don Shula Stadium
RTU and roof replacement – B-wing
Roofing and façade restoration – Dolan and Pacelli Halls, Rodman, DeCarlo Varsity Center, Grasselli Tower and Administration Building Arcades, Boiler House.
Existing carpet removed and sent for recycling. New carpet with recycled content and low odor, low VOC paints:

Administration Bldg, Library, Bernet and Campion Hall.
4070 Carroll Blvd as Offices for the Department of Military Science:
Renovated existing structure, new roof, new windows and façade restoration – increased attic and wall insulation
New high efficiency HVAC units and hot water tank
Six dumpsters of demolition material/ construction waste  was 100% recycled by Rosby Recycling
Bohannon Site Restoration and Hamlin Quad Improvement Project:
Preserved and enhanced natural site elements. Provided 3.16 acres (56.4%) pervious area.
Added bio-retention basin to enhance biodiversity and reduce and filter storm water runoff
Site lighting utilizes LED light fixtures to reduce energy use, sky glow and minimize lighting impact on nocturnal environments.
Demolition debris was reused or recycled as follows:

Furniture donated to local restaurant
Concrete and masonry was crushed and reused on site
Steel and other metals were salvaged for recycling  – 2950 CYA
Track and Turf replacement:
Old turf removed from site to be recycled
New synthetic turf:

No water or fertilizers required
Infill made from recycled tires