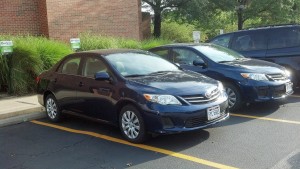 The Carshare Vehicles have arrived!
Located in the Recplex parking lot next to the Natatorium are two blue Toyota Corrollas that can be rented to JCU students by the hour!
Top six reasons to use JCU's car sharing program:
1. Go wherever you want, anytime you want.
2. Enterprise takes care of everything: fuel, physical damage/liability protection, and maintenance.
3. Newer, cleaner cars that can fit friends.
4. There's an entire city beyond campus.
5. Stocking up on supplies is easier with a trunk.
6. It is a sustainable option!
Get more information about the program here.
Go online to register for the program here.