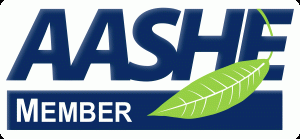 August 2010 –  John Carroll University completed the process of becoming a member of the Association of Advancement for Sustainability in Higher Education (AASHE).  AASHE is an association of colleges and universities that are working to create a sustainable future. Our mission is to empower higher education to lead the sustainability transformation. We do this by providing resources, professional development, and a network of support to enable institutions of higher education to model and advance sustainability in everything they do, from governance and operations to education and research.
AASHE defines sustainability in an inclusive way, encompassing human and ecological health, social justice, secure livelihoods, and a better world for all generations.
AASHE is a member-driven, independent 501(c)(3). Membership in AASHE covers every individual at an institution.
Learn more about AASHE at: http://www.aashe.org/
Posted on September 27, 2010