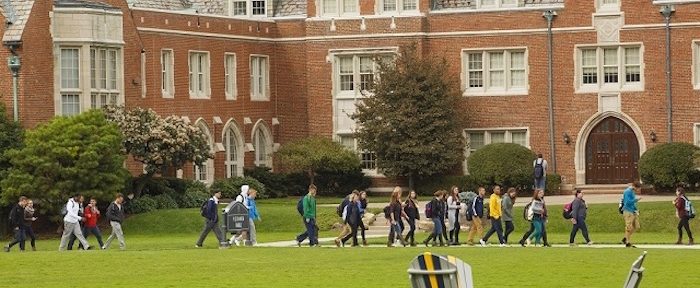 I like the fact that students are being encouraged to participate in service projects that benefit those who are less fortunate.
Elizabeth Trocki '76
Erie, PA
---
The Jesuits at JCU were very inspiring to all of us in the Class of 1957 (although I actually received my JCU degree in 1961 due to 4 years of US Air Force military service between my 2nd and 3rd year at JCU). Fr. Paul Woefl, S.J., stands out especially!
Leo Wells '57
Providence Forge, VA
---
I was afforded the opportunity to go to JCU because of scholarships and financial support. I want to give that same opportunity to future students.
Lisa Zone '98
Cleveland, OH
---
I played football at JCU and loved hearing the pep band. I played on the kickoff and kick return teams and still remember the band playing Bon Jovi, Living on a Prayer to start the 3rd QTR. They were a huge part of the football games and my college experience.
Jim Fink '05
Richmond, VA
---
John Carroll gave me the best four years of my life and a great foundation for future endeavors. Carroll taught me not only how to succeed academically but also how to be a woman for others. Carroll has given me lifelong friends and a family away from home.
Sarah Buranich '11
Orchard Park, NY
---
It is essential that a Jesuit education is bestowed on future generations to continue the same values and the ethics that I received.
Charles Fye '61
Avon Lake, OH
---
I value my Jesuit education. It has served me well in my career as a high school math teacher at St. Edward's High School and at the University of New Orleans as Professor of Sociology, Dean of the College of Liberal Arts, and Associate Provost. I value alumni support.
Dennis McSeveney '65
New Orleans, LA
---
John Carroll means so much to us.
Anonymous alumna/us

---
I had wonderful professors at John Carroll who prepared me to be a critical thinker in everything I do. I want other people to have that same opportunity.
Sarah Stroney '08
Pittsburgh, PA
---
To honor the memory of NCAA All American Wrestler Mark Schell and to support the Central Ohio presence at John Carroll University through the Mark Schell Memorial Endowed Scholarship.
Tom Cua '80
Westerville, OH
---