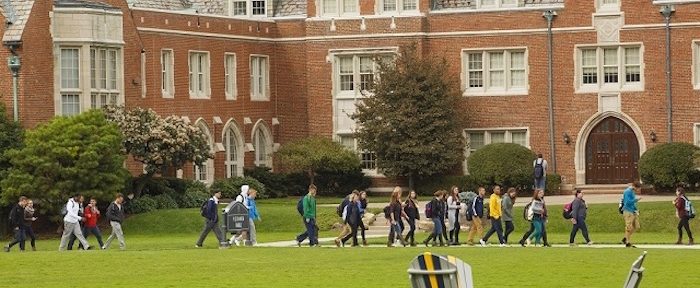 I give because of Ron, Emmett, Rodney, Thomas, Cadillac, Paxton, JimBob, Al, Poppy, Gary, Viola, Nancy, Betty, Marie, Jupiter, Tom, Johnny, and so many others who helped me discover Jesus and the world by being as real, open, perfect and flawed as humans can be.
Lena Chapin '10
Cleveland Heights, OH
---
I met some of my best friends at JCU and had an amazing experience.
Laurie Hrad '11
Chicago, IL
---
I enjoyed my time at JCU and value the experiences and knowledge gained and wanted to give back to the University so others could experience all I did.
Samuel Gonder '09
Dallas, TX
---
I thoroughly enjoyed my time at JCU and how it prepared my for the future. I want others to be able to experience the many benefits of JCU.
Daniel Blackburn '11
Chicago, IL
---
I donate so economically challenged families can provide their children with the opportunity to experience the quality education in the spiritually supportive atmosphere that only John Carroll can offer.
Vincent Fazio '82
Medina, OH
---
January 18, 2015, would have been our father's 100th birthday. He graduated from JCU in 1936 and wore his glass ring until he died. Instead of flowers on a grave, we chose to give to his alma mater. - Given by his children, Al, Beth, and Sue
Al Goerlich
Amherst, OH
---
Carroll was a great experience for me. I appreciate what it was and continues to be in my life. I've met many wonderful people because of my time at JCU and, for that, I'm grateful.
Tom Cassidy '99
LaGrange, IL
---
John Carroll made a difference in my life and helped mold me into the person I am today. I am grateful for my time and experience at JCU.
Ryan Tyson '96
Hermitage, PA
---
The decision to attend John Carroll has impacted my life every day since then in so many positive ways - emotionally, spiritually, intellectually, and physically. There is no way to repay such an enormous debt.
Paul Hulseman '82
Winnetka, IL
---
I am happy to give to JCU. I had a great experience there. I also feel as though the education I received there effectively prepared me for completing my graduate degree (Masters of Science in Communication Sciences and Disorders). I am now a Certified and Licensed Speech Language Pathologist.
Katy McMahon '01
Austin, TX
---