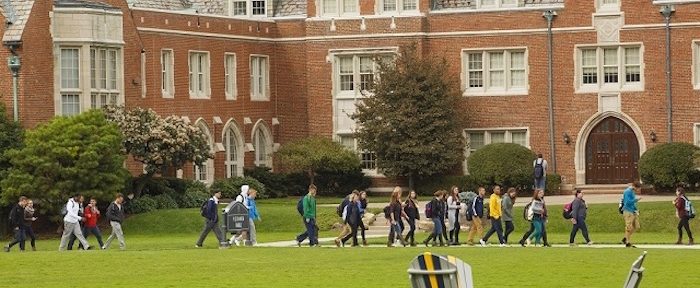 We give because of Tom Lewis, '60, '62G, and the role JCU has played in his life, in terms of spirituality and an incredible sense of giving and community. He has passed these gifts along to his children and now his grandchildren.
Brian & Mary Margaret Lewis Friel
Chevy Chase, MD
---
I was an RA for three years at JCU (one being a Senior RA in Millor Hall). I remember the Halloween (tradition) and am glad it will continue on.
Meghan Fink '06
Richmond, VA
---
It is essential that a Jesuit education is bestowed on future generations to continue the same values and the ethics that I received.
Charles Fye '61
Avon Lake, OH
---
John Carroll gave me the best four years of my life and a great foundation for future endeavors. Carroll taught me not only how to succeed academically but also how to be a woman for others. Carroll has given me lifelong friends and a family away from home.
Sarah Buranich '11
Orchard Park, NY
---
I give because of Ron, Emmett, Rodney, Thomas, Cadillac, Paxton, JimBob, Al, Poppy, Gary, Viola, Nancy, Betty, Marie, Jupiter, Tom, Johnny, and so many others who helped me discover Jesus and the world by being as real, open, perfect and flawed as humans can be.
Lena Chapin '10
Cleveland Heights, OH
---
I believe in the value of a Jesuit education.
Tim Schoenharl '02
Bellevue, WA
---
In memory of Thomas M. Gibbons (Class of 1949 and JCU Alumni Medal honoree in 1986).
Anonymous student

---
I am happy to honor my good friend, Marie Lynch Julius '83. Our 4 years at John Carroll were transformative and I am so grateful for the experience.
Sandra Ryan '83
La Grange Park, IL
---
The support, growth, teaching, and encouragement I received during my time at JCU instilled in me a desire to be a woman for others. I am blessed with all that I have and hope a small contribution can help others in the community.
Mary Cichanski '06
Cleveland, OH
---
... because of the education/relationships during my years at JCU, and the lifelong values earned from that education.
Hal Wheatley '64
Sagamore Hills, OH
---