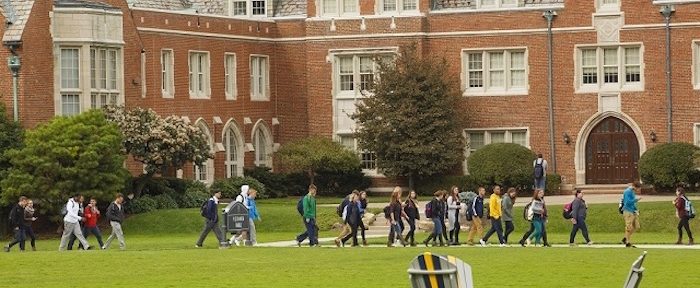 Football team parkas.
Mike Pawlak '75
Middleton, WI
---
As a former staff member, I saw the JCU mission in practice.
Anita Friedman
New York, NY
---
I received an MS in Math in 1975.
Christine Mitchell '75G
Atlanta, GA
---
I believe in the work of the ISI and the healing mission of Jesus which the graduates are carrying across Cleveland and beyond.
Pam Chaney '17
Shaker Heights, OH
---
Loved the JCU experience, being part of the baseball program and being part of a new varsity sport.
Phil Ricci '77
Pittsford, NY
---
If we want to see a world where peace, justice, truth, understanding, and well-being reign then the youth must be educated in a well-informed solidarity. They must sit at the table of the other and learn compassion. They must become avid social critics, critical thinkers, artists, and entrepreneurs.
Anne McGinness, Ph.D.
Cleveland, OH
---
I received a great education.
Carol DiLillo-Kenney '77
Cleveland, OH
---
I give to John Carroll because it helped shape me into the person I am today. John Carroll truly does form men and women for others and I find that value speaks more to a person's character and success than any other measure.
Caitlin Werth '03
Pittsburgh, PA
---
John Carroll provided me with a considerable amount of scholarship money when I was a student there, and this is my way to give back.
Jason Hennes '00
Park Ridge, IL
---
John Carroll University made a huge impact on my life and its direction. I continue to reap the rewards of that impact and appreciate the opportunity to give back to the university and help another current or prospective student.
Michelle Conkle '89
Suwanee, GA
---