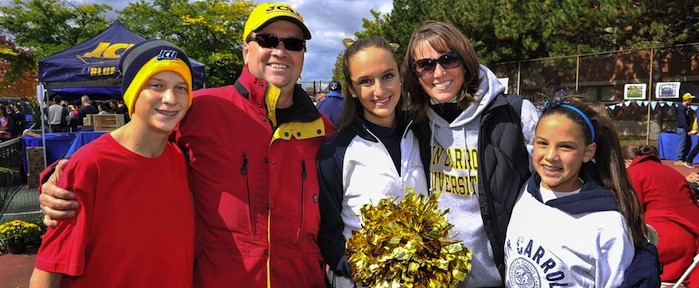 Annual Gifts. Daily Impact.
Regardless of the size, every gift made to the Parents Fund makes a difference. Your gift supports:
Student financial aid and scholarships
Retention of quality faculty
Technology upgrades
Student activities and community service projects
Why the Parents Fund?
The Parents Fund is another way for parents to become involved in the life of the University and to help preserve, enhance, and improve the quality of the John Carroll experience for all students.
A gift to the Parents Fund is also considered a special vote of confidence in the University as it helps us fulfill John Carroll's Jesuit mission. For example, giving from parents is recognized by foundations awarding grants as well as associations of higher education accreditation as a sign of institutional strength.
Tuition Doesn't Cover It All
The Parents Fund directly affects the main reason that drives us all at Carroll: our students.
The goal of the Parents Fund is to help the University close the gap between tuition and the full cost of educating a John Carroll student. Many support services that can make a difference in a successful college experience are not covered by tuition. The University must rely on private gifts to enrich the student experience.