Chelsea Gerken
Position: Vice President of Programming for Student Union
Twitter and/or IG OR Nickname: @chelseagerken
Year and Major: Junior, Integrated Marketing Communications major
Hometown: Born and breed in the wonderful Glass City, Toledo, Ohio
Interests: I have a passion for children, especially Honduran ones, ice cream and animals!
Dream Job: Owning a PR firm and being a publicist for someone famous.
Role Model: Oscar Rene Lopez, my brother from Honduras. He motivates me by working hard and striving to succeed, even though he has grown up with little.
Danni Keane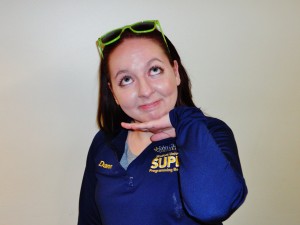 Position: Major Events Coordinator
Twitter and/or IG OR Nickname: @danniproblems
Year and Major: Sophomore, Economics and Political Science
Hometown: Hamburg, New York
Interests: Makeup and hair supplies… doughnuts.
Dream Job: Fashion buyer for Saks
Role Model: Grace Kelly
Mary Juanita Fischer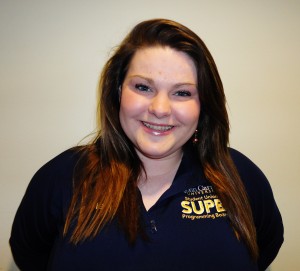 Position: On-campus Events Coordinator
Twitter and/or IG OR Nickname: @maryjfischer
Year and Major: Junior and Marketing and Business Logistics Double Major
Hometown: Pittsburgh, PA
Interests: Basketball, Shopping, Music, Spinning, Drawing, Golf and CLC
Dream Job: Sports Marketer for the Pittsburgh Steelers
Role Model: Mother Teresa or Saint Theresa of Lisieux
Julia Ciccolini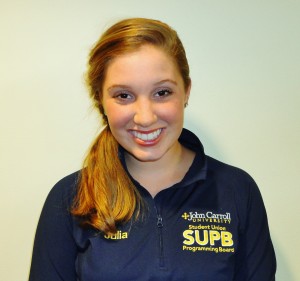 Position: On Campus Events Coordinator
Twitter and/or IG OR Nickname: @JuliaCiccolini
Year and Major:   Junior, Communications
Hometown: Green, OH
Interests: Singing, event planning, fashion, reading, tennis, bike riding, swimming, traveling
Dream Job: Be an event planner for a high-end company in New York City
Role Model: My mother
Matt Hribar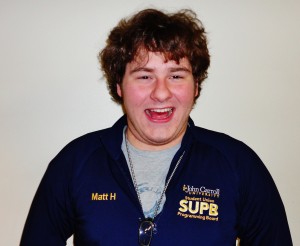 Position: On-Campus Events Coordinator
Twitter and/or IG OR Nickname: @hribstar
Year and Major: 2016, Communications & Criminology
Hometown: Willoughby, OH
Interests: Writing, Film, Humor.
Dream Job: Television Personality!
Role Model: Bono
Rachel Morgan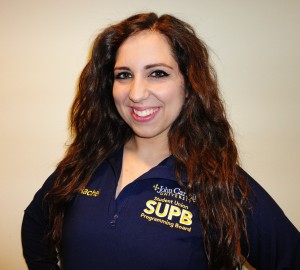 Position: Multimedia Coordinator
Twitter and/or IG OR Nickname: raymo_23= twitter, raymo23=IG                                                                                                       Year and Major: Junior, Integrated Marketing Communications
Hometown: North Ridgeville, OH
Interests: BASKETBALL, all cleveland sports teams, working out, thinking, writing, my family, helping people, learning
Dream Job: start nonprofit business in basketball training and/or sports & event marketing for underprivileged youth in Cleveland.
Role Model: Micheal Jordan, John Wooden, Dr. Martin Luther King Jr., my parents
Kelly Carter
Position: Human Resources Coordinator & Internal Affairs                                  Twitter and/or IG OR Nickname:@krazykellykool                                                 Year and Major: Junior, Industrial/Organizational Psychology major                   Hometown: Cleveland… Pretty much the entire Akron-Cleveland area Interests: Several TV shows, reading, movies, helping people, baseball and football, and being silly with friends                                                                     Dream Job: Consulting I-O Psychologist somewhere warm or in Italy :)         Role Model: GHANDI! … Maya Angelou and Selena Gomez     
Steve Palmeri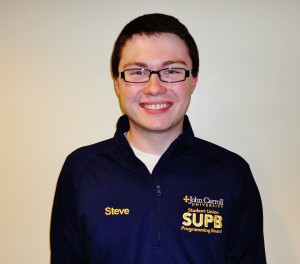 Position: Off-Campus Events Coordinator
Twitter and/or IG OR Nickname: I don't have a twitter or Instagram. My nickname is Steve…
Year and Major: junior psychology and LGBT studies double major
Hometown: Fairlawn, OH
Interests: music, Dr. Who, Harry Potter, shiny thingsDream Job: clinical psychologist
Role Model: Harvey Milk
Brian Becker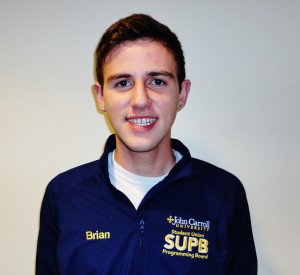 Position: Unity and Diversity Events Coordinator
Twitter and/or IG OR Nickname: @BarbieGirlBrian
Year and Major: Junior and Economics
Hometown: Broadview Heights, Ohio
Interests: Running and Movies
Dream Job: Program Director for the Human Rights Campaign
Role Model: Lady Gaga
Gabriel Menendez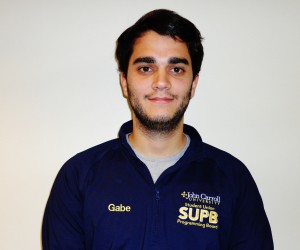 Position: Finance Coordinator
Twitter and/or IG OR Nickname: Gabriel
Year and Major: Finance/ 2014
Hometown: Gotha
Interests: Kite surfing, Surfing, Spear fishing
Dream Job: Mountain Climber
Role Model: Elon Musk
Matt Burke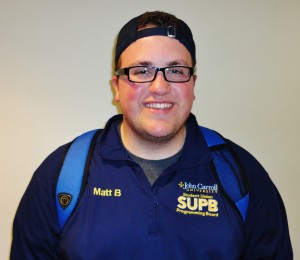 Position: Promotions Coordinator
Twitter and/or IG OR Nickname: @M_B_21_
Year and Major: Junior Marketing Major
Hometown: Utica NY
Interests: Playing lacrosse, fishing, any sport
Dream Job: Owner of the Cleveland Indians
Role Model: Mark Cuban
Alexandra (Alex) Higl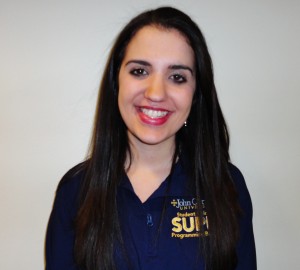 Position: Print Media Coordinator
Twitter and/or IG OR Nickname: alx_higl
Year and Major:  Sophomore, Communications
Hometown: Parma Heights, OH
Interests: Writing, working out, theater, music, photography, hanging out with friends
Dream Job: Magazine journalist
Role Model: My parents