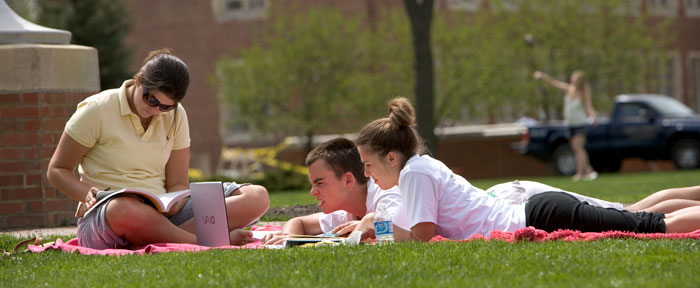 Why Study Online at JCU?
Online summer courses at John Carroll University offer the flexibility of working toward your degree without having to be at the University every day. The courses will be capped lower than regular courses, thereby ensuring maximum interaction with the instructor.
Get the full list of online and hybrid courses here.
Read the course syllabi, which will be posted as they become available:
Database Applications
Management Information Systems (BI200)
Addiction Knowledge (CG 514) (hybrid – online and on-campus)
Service Coordination and Documentation (CG515)
Clinical Intervention, Prevention, and Ethics (CG573) (hybrid – online and on-campus class)
Business and Economic Statistics (EC 207)
Business and Economic Statistics II (EC 208)
Reading and Writing Across the Curriculum (ED 452) (hybrid – online and on-campus class)
Study in Language and Phonics (ED 454) (hybrid – online and on-campus class)
Literacy Perspectives (ED 565) (hybrid – online and on-campus class)
Integrated Language Arts (ED 571) (hybrid – online and on-campus class)
Gods and Monsters: The Supernatural in Western Literature (EN299) (hybrid – online and on-campus class)
Introduction to Graduate Research and Writing (HM503) (hybrid – online and on-campus class)
Database Solutions (MK 308) (hybrid – online and on-campus)
Organizational Behavior and Management (MN325)
Applied Mathematics (MT 118)
Discrete Mathematics and Matrix Algebra (MT271) (exams in proctored environment)
Computer Science for High School Teachers (MT 513)
Cultural Diversity Training (NP 555) (hybrid – online and on-campus)
Quantitative and Qualitative Analysis in Non-Profit Administration (NP 560)
United States Politics (PO 101)
Comparative Politics (PO 102)
Life Span Development (PS 175)
Social Psychology (PS 241)
Child Development (PS 261)
Adolescent Development (PS 262)
Child and Adolescent Psychopathology (PS 455)
Psychopathology (PS 457)
Islam and the Environment (TRS 342)
Beginning Spanish I (SP101) (hybrid – online and on-campus class)
Beginning Spanish II (SP102) (hybrid – online and on-campus class)
Contact Information
For questions about the online summer courses at John Carroll University contact:
Anne Kugler, Associate Academic Vice President for Faculty Development and Summer Programs
216-397-4770 or akugler@jcu.edu