"Dialogue between Christians and Muslims Since Vatican II"
Presented by: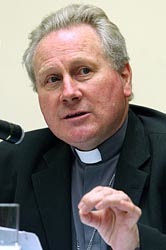 His Excellency Archbishop Michael L. Fitzgerald, M. Afr.
Apostolic Delegate to the Arab Republic of Egypt (2006-2013) and Delegate to the League of Arab States
Archbishop Fitzgerald will preface his remarks with a review & perspective on recent events in Egypt.
Monday, October 7, 2013
7:30 p.m.

in the Conference Room of the D. J. Lombardo Center
John Carroll University
Free and open to all 
For more information, call 216.397.1651.
---
Sponsored by the Office of the President, with the additional support of The Office of the Provost & Vice President of Academic Affairs, The Office of the Dean of the College of Arts and Sciences, The Program in Applied Ethics, The Walter and Mary Tuohy Chair of Interreligious Studies, The Institute of Catholic Studies, The Cardinal Suenens Center, and the Nursi Chair in Islamic Studies.
Posted on August 21, 2013