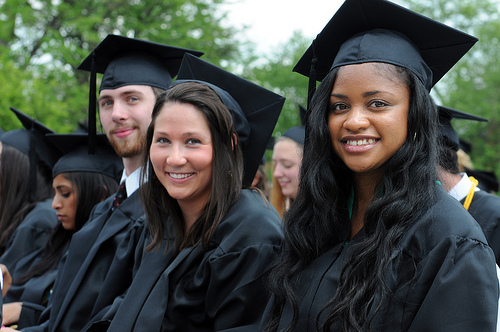 Our Jesuit tradition is the heart of who we are. We believe in learning, leadership, and service to others. Our faculty and staff are committed to students—focusing on their academic, social, and financial well being. It's about providing an engaging and transformative academic experience that prepares our students not just for their first job, but for life—both intellectually and spiritually.
We've designed our programs to give students the tools they need to be creative, innovative, and ethical leaders in the workplace and in the community. These skills are as relevant today as ever. To understand why this is important in a global context, visit Did You Know? In our core curriculum, we teach students to think critically, to adapt, to be flexible, and to solve problems to make a difference in an ever-changing world.
Students are not just "a number," or a face in the back of a large lecture hall. They are taught in small classes (14:1 student/faculty ratio) by professors who are experts in their fields.
Faculty expertise: 95 percent of full-time faculty have terminal degrees, and the majority of our faculty has published books, articles, or received research grants in the past two years.
Inquiry: Many undergraduate students work closely on faculty-guided research (including 100 percent of our physics students).
Involvement: From the moment students arrive as freshmen, they are encouraged to get involved both inside and outside of the classroom—supporting their academics with relevant, real world experiences.
Internships: For example, more than 50 percent of our accountancy students secure internships, and our Arts and Sciences students intern at the Cleveland Clinic, one of America's Top 4 Hospitals.
Service: When our students get involved in the community, everyone benefits. Here's a common example:  a biology major with a goal of going to medical school will support her academics with life experience by volunteering at one of Cleveland's free health clinics as early as her freshman year. There are non-profit organizations in Cleveland that write to us to say they couldn't be successful without John Carroll student help. We strive to be "men and women for others."
Study abroad/diversity: From "immersion programs" in Central America to study abroad programs in London, Rome, and Madrid (to name a few), we encourage our students to get a global perspective and immerse themselves in diversity and other points of view. Leaders need "cross-cultural competency" to be successful today and in the future, and our programs reinforce this concept.
Advising and financial planning: Our faculty and staff work student by student to help families afford a John Carroll education and to get the most of out it.