Welcome to Meet Your Student Union! Each week we will feature a different member of Student Union so you can get to know who is representing your voice.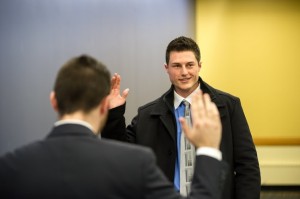 This week's edition of Meet Your Student Union features your Vice President for Judicial Affairs, Scott Stewart!
Scott was asked a few questions about John Carroll, himself, and what he wants to bring to Student Union.
What is your favorite thing about JCU?
The cafe of course!

What's your major?
I am studying Criminology.
Where are you from?
Las Vegas.
What is something you hope to bring to Student Union?
Hard work and dedication to the position.
Fun fact about yourself:
I can beatbox!
Favorite quote:
"The difference between a successful person and others is not a lack of strength, not a lack of knowledge, but rather a lack of will." -Vince Lombardi
Questions about Student Union? Contact Scott at sstewart15@jcu.edu.

Stay tuned for next week's Meet Your Student Union!