Welcome to Meet Your Student Union! Each week we will feature a different member of Student Union so you can get to know who is representing your voice.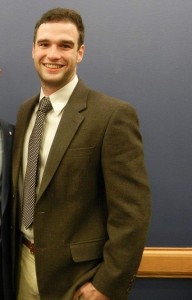 This week's edition of Meet Your Student Union features one of the 2016 Senators, Christopher Barthen!
Chris was asked a few questions about John Carroll, himself, and what he wants to bring to Student Union.
What is your favorite thing about JCU?
I love how involved the teachers are with their students. I really feel like they are helping me to succeed.
What's your major?
Finance
Where are you from?
Pittsburgh, PA
What is something you hope to bring to Student Union?
To get the student population more involved with events/issues that arise on campus. I feel like a lot of the students aren't aware of some of the things that go on with Student Union.
Fact about yourself
I love to fish!
Favorite quote:
"You only have to do a few things right in your life so long as you don't do too many things wrong" Warren Buffett
Questions about Student Union? Contact Chris at cbarthen16@jcu.edu
Stay tuned for next week's Meet Your Student Union!