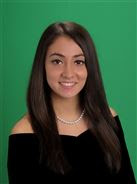 Katie Cavasinni
Class of 2017
kcavasinni17@jcu.edu
The duties of the Vice President for Communication (VPC) of the Student Union are outlined in Article III, Section 8 of the Constitution of the Student Union. The VPC is responsible for ensuring the John Carroll University community is well informed on Student Union events, meetings, and topics of discussion. The Student Union Newsletter is compiled under the direction of this individual. The VPC also prepares the minutes from each Senate meeting, publicizes these meetings, and maintains a blog as part of the Student Union website to provide insight for the general population as to the operation and activities of the Student Union. This individual is also responsible for ensuring the Student Union website is maintained and is the point person for all correspondence with the Carroll News and University Heights. The Communication Committee is formed and chaired by this individual.
The Communications Committee: The Vice President for Communications will post information about forming a committee to assist with publicity and communication tasks including social media, the Student Union newsletter, and event planning. Contact the VPC anytime if you are interested in helping out!