Lisa Ramsey
Director of Student Activities
Email – lramsey@jcu.edu
Lisa Ramsey is the Director of Student Activities and has been at John Carroll University since August 2004. As Director, Lisa is responsible for the overall programmatic and administrative functions of the Office of Student Activities. In addition, she serves as the main advisor to the Student Union, works with student organization programming, and late night programming activities. Lisa obtained her bachelor's degree at Thiel College and her master's degree from Ohio University. Prior to JCU, Lisa spent seven and a half years as the Assistant Director of Campus Life at Southern Illinois University Edwardsville in Edwardsville, Illinois (just outside of St. Louis). Originally from Ohio, Lisa feels good to be "home" again. She lives in Hudson with her husband, Mike and two boys (one who will be a college sophomore and one entering fourth grade in fall 2011). You will often see Lisa running or doing yoga during her lunch hour. She especially enjoys talking with students to help them create an engaging and fun campus environment. Visit the OSA to find out how you can be a part of it too!
---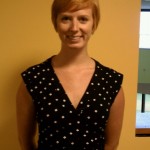 Holly Mittelmeier
Assistant Director of Student Activities
Email – hmittelmeier@jcu.edu
Holly is the Assistant Director of Student Activities, beginning her position in July 2011. Prior to joining JCU, she was at Ball State University where she earned her master's degree in Higher Education and Student Affairs Administration and worked in Residence Life, in which she also held various roles in advising, programming, and Greek life. She completed her bachelor's degree in journalism at Bowling Green State University. Holly is a native Clevelander, and is happy to be close to her family and the city. She loves the students she gets to work with and seeing them grow, and enjoys the experience of working on a university campus. She enjoys yoga, ballet classes, Italian food, great theatre, books, and running! Stop by and say hello, she likes sharing her candy dish!
---


Janet Paradise
Administrative Assistant
Email – jparadise@jcu.edu
Janet Paradise joined the Office of Student Activities in February 2008 after spending 13 years at Management Recruiters International as a recruiter/project coordinator in the printing and graphic arts field. Prior to working for MRI, she worked at Dillard's (formerly Higbee's) in sales and management at the Beachwood and Downtown stores. She lives in Euclid with her husband, Nick. Her proudest accomplishment is that of being the mother of four boys, all of whom have been educated at Saint Ignatius High School. Janet will be glad to assist you with anything relating to the Office of Student Activities, so feel free to stop by and say hi!
---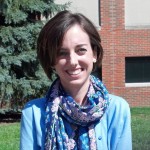 Maura Jochum
Graduate Assistant
Email mjochum11@jcu.edu
Maura Jochum began her graduate assistantship in the Office of Student Activities in August 2012. She completed her bachelor's degree in communication at John Carroll in December 2010 and is excited to have returned home to Carroll to pursue her master's degree in communication management. The Office of Student Activities provided a cornerstone to Maura's undergraduate experience and she is grateful for the opportunity to work with the campus community through Late Night at Carroll, the Kulas Grant program, and Relay for Life as part of the team of individuals working to ensure today's Carroll student is provided with a positive and fulfilling experience. Maura's door is always open, so stop by to share ideas, get involved, or just to say "hello"!
---

Sheila Weaver
Graduate Assistant
Email – sweaver14@jcu.edu
Sheila Weaver is pursuing her master's degree in Community Counseling and Mental Health at John Carroll University, while supporting the Student Union Programming Board (SUPB). Sheila has embraced the opportunity to share her knowledge in planning quality programs to engage the student body while incorporating the mission of John Carroll University. Her past experiences at Notre Dame College have allowed her to obtain a degree in psychology while exploring leadership positions. Sheila has also had the opportunity to interact with a wide range of community organizations such as the Fatima Center and Cleveland Rape Crisis Center. Interacting with diverse populations has helped her become who she is today. However, when free time emerges Sheila enjoys reading, listening to music, and spending time with her family.