When is Streak Week?
Streak Week 2018 officially begins when students arrive on campus for Move-In Day on Wednesday, August 22 The weekend concludes with Mass and some other co-curricular activities on Sunday, August 26.
About Streak Week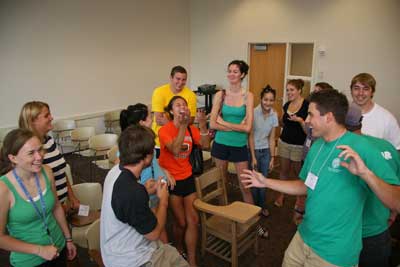 Streak Week is designed to further orient you to university life and to provide a solid introduction to all that JCU has to offer, both inside and outside the classroom. Several sessions are mandatory for all first-year students, as they include very important information for college life. You'll also have the opportunity to take part in several social opportunities to meet your new classmates! A detailed schedule will also be provided to you when you check in to your fall room (if you are living on campus) or during commuter check-in on August 22. Best of luck to you, Class of 2022!
What If I'm a Commuter?
Commuter students are invited to check-in between 4:30–5:00 p.m. on Wednesday, August 22, in the Student Center Atrium. At 7:30 p.m. there will be a commuter meeting as well as an "Eat 'n Greet" where you can meet other first-year commuter students. Please note that parking will be extremely limited on Move-In Day. Commuter students are welcome and encouraged to attend all of the events on Thursday, Friday, Saturday, and Sunday as well.