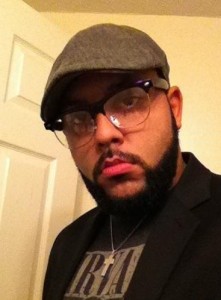 Management Analyst,
U.S. Department of Veterans Affairs
Law Student,
Cleveland-Marshall College of Law
When I began undergraduate studies at Carroll, I was a first generation freshman with very little understanding of the college experience, let alone what I actually wanted to do with my life. My mandate was simple: Finish school, get a job. Any job.
Though I had always had a heart for social issues and social justice, both domestically and globally, I didn't know how to translate that passion into an educational or career path. I was fortunate enough to have a First Year Seminar (FYS) professor who lived and breathed social justice, responsibility, and the urgency of being aware and engaged in such a troubled world. My professor, Dr. Verghese Chirayath, integrated sociological inquiry and analysis in our materials, and introduced me to sociology as an academic discipline. I often describe my introduction to sociology as a veil being lifted from my eyes, somehow saying, "This is the world as it really is, Nelson, what are you going to do to fix it?"
The sociology department, and its highly dedicated faculty (Dr. DeZolt, Dr. Vaquera, Dr. Harris, Dr. Eslinger, to name a few) helped give me a framework for understanding my world, from my personal experiences growing up in the inner city, to interpreting global conflicts and issues. I went on to choose sociology as my major in the cultural diversity track, with a minor in political science, emphasizing comparative politics and international relations. During my senior year, I was fortunate enough to co-author research with Dr. Chirayath (who was my advisor and corporate deviance professor) entitled "Contemporary Corporate Crime – Theoretical Framework and Case Analysis." This work, an extension of prior research done by Drs. Dezolt, Chirayath, and Eslinger, focused on contemporary issues of globalization and its effects on business ethics. The research was published by Anthem Press in a collection of works entitled "Discourse on Applied Sociology," edited by Dr. Samir Dasgupta. I was also fortunate enough to be inducted into Alpha Kappa Delta, International Sociological Honor Society, Tau Chapter of Ohio, in 2006.
After graduation, I was hired by the U.S. Department of Veterans Affairs, Veterans Benefits Administration, as a veterans service representative, through the Federal Career Internship Program. After about a year, I was promoted to management analyst, where I utilize many of the quantitative and qualitative analytical skills I learned in sociology. I also recently completed my first year in Cleveland-Marshall College of Law's Evening Program.
I can say with utter certainty that the sociology department at JCU had a critical role in shaping me as an intellectual and a human being. I am truly grateful for the education I received and I endeavor every day to live out the Jesuit tradition of being a man for others.