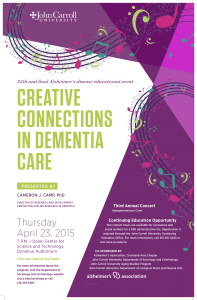 Creative Connections in Dementia Care
25th and Final Alzheimer's Disease Educational Event
Thursday, April 23, 2015
7–9 p.m.
Dolan Center for Science and Technology
Donahue Auditorium
Presented By
Cameron J. Camp, PhD
Director of Research and Development
Center for Applied Research in Dementia
Third Concert of the Intergenerational Choir
For more information about the program, contact the Department of Sociology and Criminology at 216.397.4381.
Continuing Education Opportunity
Two contact hours are available for counselors and social workers for a $20 administrative fee. Registration is required through the John Carroll University Continuing Education Office. For more information, visit jcu.edu/ce or call 216.397.4245.
Co-sponsored by
Alzheimer's Association, Cleveland Area Chapter
JCU Department of Sociology and Criminology
The JCU Aging Studies Program
JCU Department of Liturgical Music and Musical Arts