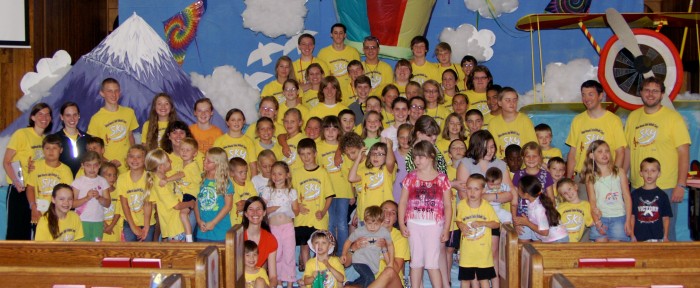 Posted by: Lauren Gunderman
Hello! Writing here from tiny Lebanon, Virginia where I live between rolling mountains, and get to see remnants of fog in the valleys on my morning runs. I am the only Shepherd Intern staying with a host family, but it has been amazing staying with the Meltons and their two daughters, 14 and 10. Before I go into what has been going on here and what I've been doing, I'd like to say that church was awesome today. Today marks the end of the five weeks I've been here, yet today was when everything came together. Yes, I've been working at the medical clinic, C-Health, I've been volunteering at the Addiction Recovery Center and volunteering at the Intergenerational home, but one of the most important parts about this internship is to get involved in the community and really find your niche. My niche is at the Lebanon Memorial United Methodist Church (LMUMC), the church I decided to go to since Catholics are scarce in the area, and I'd rather go to church with my host family instead of by myself.
I've been going to this church for 5 weeks. Three weeks ago I joined a Young Adult bible study, which introduced me to some of the only people I know in the area that are my age. And then just last week I decided to volunteer at the Vacation Bible School (VBS) in the mornings and to go C-Health in the afternoons (after clearing it with my supervisor, of course). I thought it would be a good way to further integrate myself into the community here. My "host sister" Maggie and I did the music and dancing, which was fun but took a LOT of energy. I was so worn out each afternoon when I went to C-Health! And then today the church put on a service with the kids dancing and singing, while Maggie and I cued the moves from the balcony. It actually wasn't bad! And this is why church was so great today: as I was leaving, I stopped to talk to people I had met during VBS. I kept getting stopped by people saying that I did a great job, and it felt amazing to be appreciated (and recognized)! The woman I work closely with at C-Health came to watch her granddaughters and many of the doctors who work at C-Health go to church at LMUMC, so it felt like my entire Lebanon world was converging and coming together to worship, give thanks, and enjoy the kids who had worked so hard all week. The best was when Pastor Wil, who Dr. Melton and I sometimes go on runs with in the morning, came up to me, gave me a hug and sincerely thanked me. He said that he thanked C-Health for letting me come and that they were so happy to have me there. I asked if I still counted as a visitor and Pastor Wil said they were going to start calling me one of their own. Ahhh, what a wonderful feeling to belong to this community that I've fallen in love with.
I left the church this morning waving to kids and shouting "Bye!" at the Youth Group Leaders. Yes, my host sisters may be going away for two weeks of summer camp today and I'll miss them terribly, but it makes me smile when I think about what Dr. Melton says: in Dr. Melton's speech at the Family Physician of the Year Award Ceremony 2011 he said "Life is not about accomplishments; it is about relationships." I think I'm really starting to understand what that means.
More to come about what I REALLY do!!!
ps. I'm in the front row, center, holding the boy in gray