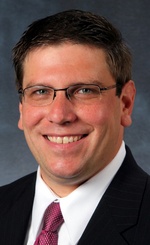 Cleveland City Councilman Joe Cimperman '92 is seeking JCU interns for the 2014-15 school year. This is a great opportunity to get involved with the Ward 3 office on their many initiatives to revitalize the city.
Healthy Cleveland 2.0:
Councilman Cimperman introduced the Healthy Cleveland Resolution in 2011. The resolution was inspired by Dr. Anthony Iton's study "Place Matters" that revealed residents living in the Hough neighborhood of Cleveland die 24 years sooner than residents living in the Lyndhurst suburb of Cleveland. His study shows that the discrepancy is directly related to diet, nutrition, exercise, and smoking. Councilman Cimperman has addressed all those areas, including mental health treatment, in his resolution.  Working with the four major hospitals in Cleveland, Metro, UH, the Cleveland Clinic and St. Vincent's to take action in all of these areas, Councilman Cimperman's office is seeking individuals to further the Healthy Cleveland movement. In Phase II, more of a focus is anticipated on mental health needs in Cleveland as well as school nutrition. The office is looking for new ideas, capacity to research and compare best practices, and individuals skilled in organizing details and planning projects/events. We would also expect the individual to manage our Healthy Cleveland subgroups (co-chair meetings, develop and implement goals, keep committees meeting on a regular basis, keep accountable). The office is collaborating with a broad range of organizations, health institutions, educational institutions and constituents to work towards the improved overall health of all of our citizens.
Any individual that comes into the office would also be expected to fulfill standard office functions. The staffer would be involved in the day to day tasks of a council office, and would be exposed to an 'all around' experience in which an intern would be able to observe the public process, attend committees, respond to constituent concerns/needs, attend community meetings and manage the overall office functions.
Use the form below to apply for this opportunity!