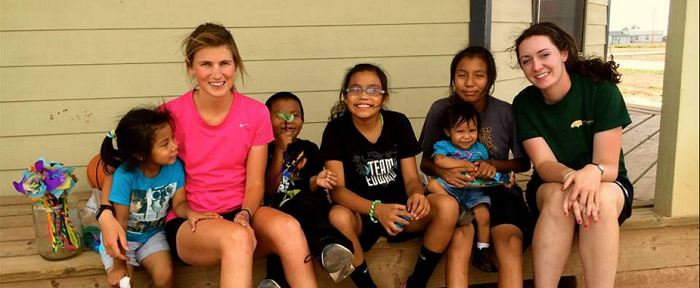 Non-profit internships should be considered another form of service. There are a variety of opportunities available in the areas of social justice and community outreach. In addition to gaining valuable job skills, students can often receive academic credit.
Current opportunities include:
Information about other internships is available in the following offices:
---
Internship: University Heights Government Internship
The University Heights Mayoral Internship Program offers college students unique experiential learning opportunities in local government. Selected participants will work closely with the Mayor and Department Directors. Placement will be based on a number of factors including the student's interests, experience/skills, as well as the city's needs. Interns will engage with a variety of tasks which may involve research and analysis, participation in committee meetings, policy research, drafting memoranda and briefs, and community engagement.

Click here for a more detailed description of the internship and the application form.
---
Internship: Councilman Joe Cimperman Internships
Cleveland City Councilman Joe Cimperman '92 is seeking JCU interns for the 2014-15 school year. This is a great opportunity to get involved with the Ward 3 office on their many initiatives to revitalize the city.
Healthy Cleveland 2.0:
Councilman Cimperman introduced the Healthy Cleveland Resolution in 2011. The resolution was inspired by Dr. Anthony Iton's study "Place Matters" that revealed residents living in the Hough neighborhood of Cleveland die 24 years sooner than residents living in the Lyndhurst suburb of Cleveland. His study shows that the discrepancy is directly related to diet, nutrition, exercise, and smoking. Councilman Cimperman has addressed all those areas, including mental health treatment, in his resolution.  Working with the four major hospitals in Cleveland, Metro, UH, the Cleveland Clinic and St. Vincent's to take action in all of these areas, Councilman Cimperman's office is seeking individuals to further the Healthy Cleveland movement. In Phase II, more of a focus is anticipated on mental health needs in Cleveland as well as school nutrition. The office is looking for new ideas, capacity to research and compare best practices, and individuals skilled in organizing details and planning projects/events. We would also expect the individual to manage our Healthy Cleveland subgroups (co-chair meetings, develop and implement goals, keep committees meeting on a regular basis, keep accountable). The office is collaborating with a broad range of organizations, health institutions, educational institutions and constituents to work towards the improved overall health of all of our citizens.

Any individual that comes into the office would also be expected to fulfill standard office functions. The staffer would be involved in the day to day tasks of a council office, and would be exposed to an 'all around' experience in which an intern would be able to observe the public process, attend committees, respond to constituent concerns/needs, attend community meetings and manage the overall office functions.
---
Internship: Shaker Public Works Internship
The City of Shaker Heights is looking for a student intern to work with the city in an administrative capacity.  The intern will assist with a complex series of HVAC projects for the Municipal Energy Program which will help the city comply with grant requirements.
Candidates should have administrative skills and follow-through is very important in this position. The city will pay $10/ hour for approximately 15 hours/week. The position is open immediately.

Please contact Patti Speese, Assistant Director of Public Works, at Patricia.Speese@shakeronline.com to inquire about the internship.
---
Internship: US Together Internship
US Together is a not-for-profit 501(c)(3) mutual assistance agency founded in 2003 as a response to the needs of refugees and immigrants in central and northeast Ohio. As a Refugee Resettlement Agency and an affiliate of the Hebrew Immigrant Aid Society,  they assure cases from all over the world that are forced to seek refuge in another country due to the inability to stay in their native country. Their mission is to coordinate, organize, and initiate services to immigrants and refugees through education, advocacy, support services, information, referrals, and networking opportunities in order to strengthen the community that we live in.
US Together is seeking qualified and culturally sensitive interns for the summer and fall of 2015.

Internship opportunities (click each for more information):
---
Internship: Cuyahoga Valley National Park
Cuyahoga Valley National Park is still accepting applications for summer internships for a wide variety of positions. Projects range from helping make the park more accessible for people with disabilities, helping manage a visitor center, presenting kids' programs aboard the train, to getting dirty working on trails and removing invasive plant species, to graphic design and public relations.
Internships at the Cuyahoga Valley National Park are a great way to gain practical experience; apply classroom learning; explore career options related to outdoor education, park management, recreation, natural and cultural resource management, and non-profit management; gain professional skills and self-confidence; and establish connections and build a network of professional contacts.

Don't hesitate to apply! The first round of applications are being released to hiring supervisors in the middle of this month. View the list of current internship positions and application details at http://www.nps.gov/cuva/supportyourpark/internships.htm
---
Internship: The Northeast Ohio Fair Trade Network
The Northeast Ohio Fair Trade Network is seeking student volunteer marketing interns to help organize and promote the Ohio Fair Trade Expo which will be held at John Carroll University along with other IRTF sponsored events.
Application Deadlines:
Summer: May 15
Fall: August 1
Worksite:
Most of the work will be done from the IRTF office. Other work can be done at JCU.
IRTF: InterReligious Task Force on Central America, 3606 Bridge Ave, Cleveland 44113
Tel: 216.961.0003
Fax: 216.961.0002
www.IRTFcleveland.org
Term:
Spring 2014
Summer 2014
Fall 2014
Compensation:
This is a volunteer internship. But, we will give you lots of food (lunch included everyday) and freebies!
Description:
Ohio Fair Trade Expo:
The student intern will work with the Ohio Fair Trade Expo Planning Team, which consists of members of the NE Ohio Fair Trade Network (i.e., fair trade nonprofits, retailers, students, and fair trade consumers). The purpose for having a student intern to work on the Ohio Fair Trade Expo is to provide learning opportunities (event planning, marketing, fair trade principles and markets) and to generate more publicity and recruiting for the event. The student intern's participation in the Expo should also help build momentum around fair trade on the JCU campus since engaging students in issues of economic justice can be more effective when coming from a peer. The intern will be able to reach out to students to discuss fair trade and use the Expo as a starting point or rallying point for fair trade on campus.
InterReligious Task Force on Central America:
The student intern will work with IRTF on various events that are being held and sponsored by the organization. ­­The purpose for having a student intern to work on IRTF events is to provide learning opportunities (event planning, marketing, promotions, and markets) and to generate more publicity and recruiting for events. The student intern will be expected to help marketing large IRTF events like the SOA trip in November along with the Commemoration and other various events that occur in the fall.
Responsibilities for both include:
Participate in the Ohio Fair Trade Expo Planning Team and attending planning team meetings (Usually once every two weeks in the evening)
Assist in designing and making contacts for a workshop or other student-focused component for the day
Promote events to high school, college, and university campuses
Promote events to faith congregations throughout Ohio
Promote the Expo to fair trade organizations and retailers throughout Ohio
At JCU: participate in coordinating the on-campus logistics for the event on Oct 25
Creating flyers, advertisements, and promotional mailing material
Writing press releases and articles to send to local media outlets
Updating contact lists for local churches, high schools, and universities
Manage social media efforts like Facebook and Twitter accounts
Assist with large mailings to IRTF donors
Creating newsletters
Other responsibilities as needed
Skills Needed:
Knowledge of Microsoft Office and other programs.
Creativity skills and ability to think out-of-the-box.
Ability to work independently.
Excellent verbal and written communication skills.
Ability to work well with others.
Ability to be flexible.
Great organizational and time management skills.
Access to and familiarity with Adobe Suite (Photoshop, Illustrator) is a plus!
Passion for social justice is always a plus!

If interested, contact: Chrissy Stonebraker at 216.961.0003 or Chrissy@irtfcleveland.org.
---
Internship: The InterReligious Task Force on Central America
Have a passion for social justice and Latin American issues? The InterReligious Taskforce on Central America is waiting for you! There are a number of volunteer internships available for Summer 2014 that focus on issues of militarism, human rights, exploited labor, fair trade, and rapid response.
About IRTF:
IRTF is a small nonprofit organization.  We value our interns/volunteers and consider them important partners in our program work. Interns have the opportunity to gain valuable experience in advocacy, programming, human rights research, and non-profit administration.  Interns may choose their specific projects based on their interests and the needs of the organization. Spanish language proficiency is not required but would be helpful.
IRTF calls together the people of northeast Ohio to walk in solidarity with oppressed peoples of Central America and Colombia to achieve peace, justice, human rights and systemic transformation through nonviolence. Together, we are making a difference.
Skills Needed:
Knowledge of Microsoft Office and other programs

Creativity skills and ability to think out-of-the-box

Ability to work independently

Excellent verbal and written communication skills

Ability to work well with others

Ability to be flexible

Great organizational and time management skills

Access to and familiarity with Adobe Suite (Photoshop, Illustrator) is a plus!

Passion for social justice!

Contact irtf@irtfcleveland.org for more information.
---
Internship: Revive Internship
Revive Fair Trade independent boutique in Cleveland Heights offering fair trade products for men, women, kids and home. Their fun, funky collections include eco-friendly products made of recycled, organic and sustainable materials.
Revive is seeking an unpaid marketing and PR intern for 15-20 hours a week. Duties and tasks will depend on skill level and interests and will include some of the following:
Marketing/PR Assistant
 Assist with:
Researching current market trends
Developing and executing marketing plans and strategies
Write short segments on products and fair trade cooperatives
Photography and Photoshop editing for Revive's web store
Updating promotions on the website and online
Assisting in the creation of a monthly e-newsletter
Promoting the website through Internet networking and referral sites
This is an exceptional opportunity for an enthusiastic, outgoing, detail-oriented individual. This hands-on educational opportunity is perfect for anyone wanting to experience the excitement and hard work involved in marketing a clothing retail business.
If you are interested, please send resume to:
Danielle Novario
General Manager
danielle@revivestore.com
---
Internship: Zenworks Yoga Business Development Internship
Business Development Intern
Are you a motivated, self starter who is looking for experience in a start-up?  Are you interested in non-profit management or working in health and wellness industry?  Come join Zenworks Yoga!  We are looking for a passionate, hardworking intern to help build our growing company.
Zenworks Yoga is a Cleveland based non-profit corporation whose purpose is to promote physical fitness and mental well-being of individuals, with an emphasis on programs geared to children, through instruction in yoga and participation of yoga exercises. Zenworks Yoga works with other non-profit organizations such as schools and other community organizations to provide yoga services to children and families at a very low cost.
The intern will be exposed to:
Hands on business development and strategy of a new non-profit corporation
Real world knowledge of client and donor cultivation
Participation in regular Board of Directors meetings
Responsibilities include, but are not limited to:
Researching and preparing materials for potential grants and other funding opportunities
Participating in meetings with partner organizations, potential donors and Board Of Directors when possible
Calling and emailing potential partner organizations and donors
Assistance in planning various fundraising events
Managing Zenworks Yoga social media (Facebook, Twitter, etc)
Other duties as assigned
Qualifications:
Must be current junior or senior or have completed a Bachelors degree in Marketing, Management, Non-Profit Management or other business related field
Must be motivated, have good attention to detail, organized and possess strong communication skills
Compensation:  Stipend may be available based on experience. Zenworks Yoga is also willing to work with your college or university to get credit hours and/or provide letters of recommendations and referrals for future employment.

How to Apply:  Please email a cover letter and resume to zenworksyoga@gmail.com
---
Internship: Ursuline Sisters in Youngstown
Service Learning Opportunity: Companions in Mission
The Ursuline Sisters of Youngstown have openings for Companions in Mission.The Companions in Mission program is a six-week program, beginning May 19th through June 27th, seeking adults looking for a faith-based service learning experience while living and ministering with a religious community.
Companions in Mission will participate in the community life and outreach of the Ursuline Sisters of Youngstown, as well as engaging in prayer and faith-sharing.
An individual service-learning program will be created for each Companion in Mission to best utilize her skills and education, helping them build experience in their chosen field of study. Hours per week are flexible as this program is open to students who will be enrolled in college classes.
The Ursuline Sisters of Youngstown operate numerous ministries for the poor and disadvantaged in Northeast Ohio. To learn more about this community of Catholic nuns, please visit theursulines.org.
Those wishing to apply are able to live at the Ursuline Motherhouse in Canfield, Ohio, for the term of her Companion in Mission service.
Applicants must present a clear federal background check, letters of reference/reference contact information, and be in good academic standing.
Job Location: Youngstown/Mahoning Valley, Ohio
Job Salary: Room and board; stipend to be determined
Application Instructions: Interested parties should contact supervisor as soon as possible. Interested parties can apply online or by calling or emailing the supervisor.
Online Application Address: http://www.theursulines.org/2014/01/16/companion-in-mission-2/
Contact Information: Sister Norma Raupple, Supervisor, Director of Outreach
Phone: 330-792-7636
Cell: 330-261-4729
Fax: 330-792-9553
Email: nraupple@theursulines.org
4250 Shields Rd., Canfield, Ohio 44406
---
Internship: The FEST Internship
Looking for something great to do this summer? The FEST is looking for interns to join the team that puts together an amazing event! Interns serve in many various ways throughout the summer – giving talks to parishes and schools, organizing various areas of the FEST, helping in the office with day-to-day tasks, representing the FEST at various area events, and much more. See below for details about the various roles the FEST is looking to fill.
The FEST internship is a guaranteed way to spend your summer doing something new and exciting each day, and working to create an event that inspires and energizes tens of thousands of people. For more information or to set up an interview, please email caitlin@thefest.us by May 1st!
Video Intern:
The FEST is looking for an intern to be responsible for FEST video materials. Intern will need to do video, edit, and produce compelling videos that tell the story of the FEST. These videos are essential in spreading the message for this great event to 40,000 people across northeast Ohio!
Event-Planning Intern:
Join the FEST team to help coordinate logistics, work with vendors, and organize details to put on an event for 40,000 people across northeast Ohio! This internship will give you first-hand event planning experience and an opportunity to assist with the many different pieces that go into this great event!
Marketing/Communications Intern:
Help market an event for 40,000 people across northeast Ohio through social media, print media, and mailings! Spend your summer working to create and advertise a great day for families and individuals across the region!
Retreat & Liturgy Intern:

The FEST is looking for an intern to assist with the liturgical aspects of this great event and the various liturgies, retreats, events, etc. leading up to the FEST. Spend your summer helping to plan a great event to bring together 40,000 people for a faith-filled, inspiring day for all!
---
Internship: Ten Thousand Villages Marketing Internship
Ten Thousand Villages' store in Cleveland Heights operates with the mission to create opportunities for artisans in developing countries to earn income by bringing their products and stories to our markets through long-term fair trading relationships.
Internship Length: 10-12 weeks, 12-20 hours/week; option to work remotely on some projects
General Position Description: Under the supervision of the Ten Thousand Villages Cleveland Heights Store Manager, the Marketing/Retail Intern provides assistance in Community Outreach, Social Media Support, Document Creation, Event Planning, and collaborating with our Marketing Committee.
Compensation: Internship is unpaid, but school credit is offered
Ongoing Responsibilities:
Special Projects:
Represent Ten Thousand Villages by promoting events via booths/tables at festivals, fairs, and other events with high traffic to publicize our mission

Special Event Planning i.e. Summer Fundraiser, 2nd Annual Fair Trade Rug Event, Ohio Fair Trade Expo

Develop a final presentation that will be presented to Store Manager, Marketing Committee and Board of Directors
Qualifications for this Position:
College level Junior or Senior Preferred

Microsoft Suite Intermediate Knowledge, with emphasis on Word/Excel/PowerPoint; some graphic design

Must work effectively and professionally with diverse groups, all levels of staff, community partners, and the public

Self-directed with good coordination, planning and time management skills able to meet deadlines and achieve goals

Quick, eager learner able to work independently and as part of a team

Previous Retail Experience a Plus

Please provide a resume and references to the Ten Thousand Villages Store Manager at manager.clevelandheights@tenthousandvillages.com.
---
Internship: Sherwin-Williams Community Engagement Internship
Position Responsibilities:
Assist as needed with employee engagement, fundraising, and volunteer events (event detail coordination, communication, staffing).

Coordinate promotion of events associated with the Company's community engagement efforts.

Provide administrative support for work of the Sherwin-Williams Foundation staff and Trustees.

Other duties may include supporting both local and field employees with expertise and communication support, and potentially being available outside of business hours for community events.
Experience Required:
Excellent verbal and written communication skills.

Experience with MS Word and Excel.

Applicant must have an attention to detail, be proactive about problem solving, flexibility and creativity.

Preferred Experience: In Design, Adobe, MS Publisher.

Must be a self-starter and able to work with minimal direction/supervision in a 

fast-paced environment. 
Education Required:
Pursuing a Bachelor's Degree in Business, Marketing, Communications or a related field.
Additional Information:
Looking for a current college student, preferably enrolled in his/her sophomore or junior year with an interest in potentially working on an on-going basis until graduation.

Seeking out 15-20 hours during school year, with a potential opportunity for more hours during the summer months.

Looking for a candidate to start January 1, 2015, but if he/she would like to start sooner, we could use help beginning November, even if for one or two days a week through November and December for holiday and end-of-year projects.
Equal Opportunity Employer. All qualified candidates will receive consideration for employment and will not be discriminated against based on race, color, religion, sex, national origin, protected veteran status, disability, age, sexual orientation, or any other consideration prohibited by federal, state, or local laws or by contract.

Click here for more information or to apply!
---
Internship: Care Alliance Internship
Care Alliance Health Center is now seeking enthusiastic, dedicated, and committed individuals to volunteer with our Ryan White HIV Testing Team. Throughout the spring & summer, we take our mobile testing unit out to various locations in the greater Cleveland area to offer free and confidential HIV testing. In order to make this happen successfully, we need volunteers to assist during our various testing events. The volunteer duties could include: pre & post-test counseling,  setup & take down, paper work QC, crowd control, etc.
Volunteers will gain valuable experience working with public housing residents & individuals experiencing homeless. Furthermore, all volunteer hours can be logged and verified as necessary.
For anyone who may be interested in learning more about volunteering with us, we will be having an HIV Testing Volunteer Interest Meeting on Thursday, April 2, 2015 from 1PM-2PM at our brand new clinic located on East 30th & Central (2916 Central Avenue Cleveland, OH 44115) in the Board Room on the 2nd Floor.
Interested persons must RSVP via this link: http://whoozin.com/PD9-RD3-VXDD by Monday, March 30, 2015 @ 4PM.
Contact Carly Hill, HIV Testing Coordinator, at 216-443-6161 (office), 216-258-2698 (cell), or via email at chill@carealliance.org with questions or for more information.

---