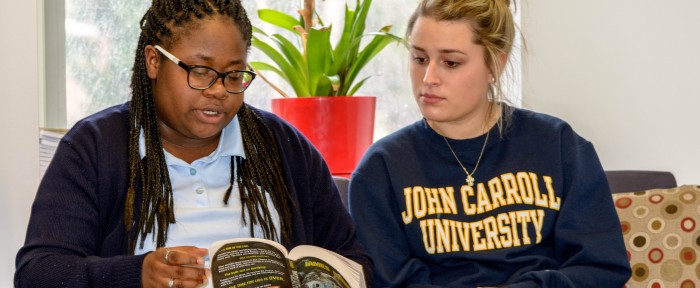 Carroll Reads is a federally-funded tutoring program aimed at helping children in grades K-6 refine reading and math skills. CSSA has partnered with area parochial and charter schools and the Cuyahoga County Public Library system to develop unique tutoring programs that better meet the needs of their community.
"Having additional tutoring help allows students who are in need of one-on-one attention an opportunity to work with someone who is there just to support them. Outside of tutoring, our volunteers also serve an important mentoring/role modeling function."

– Kathryn Terrell, AmeriCorps VISTA who piloted the program
Carroll Reads began as a pilot program in spring 2010. It is modeled after the America Reads program, a national grassroots tutoring program with the goal of promoting literacy. America Reads was founded in 1997 and though the program is now archived, there are still active America Reads chapters throughout the country with new ones being formed on a regular basis.
For more information or to apply for a tutoring position, please email carrollreads@jcu.edu, call 216.397.4698, or stop by the CSSA office in AD 32.