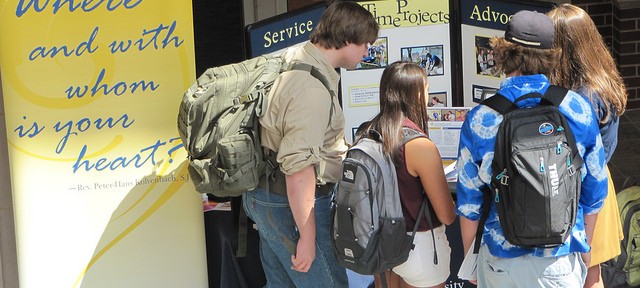 Class of 2019: congratulations on your acceptance to  John Carroll University! The Center for Service and Social Action (CSSA) offers many different opportunities for service, social justice, and advocacy, ensuring that you will find one that fits with your interests.
Are you fulfilling a service component of a class or committing to weekly service with a community partner simply to get involved? CSSA has an opportunity for you!
How about a one-time service opportunity? We have events focused on particular issues happening throughout the year to give you a 'taste' of service while volunteering alongside other students, faculty, and staff, and we also have smaller-scale service projects with community partners on weekends and evenings.
Passionate about social justice issues? Join the Students for Social Justiceorganization to focus on one or more of these issues: caring for kids, fair trade, wrongful conviction, health and wellness (including AIDS awareness), human trafficking, Oxfam hunger awareness, and more!
Check out the CSSA weekly e-newsletter, sent weekly to all students during the academic year, for the most up-to-date information on how to get involved! You can also stop by the CSSA office in AD-32 to meet with a staff member to learn more.
Find out more about how current John Carroll students view their own experiences with service by searching the #seeservice hashtag on Twitter and Instagram.