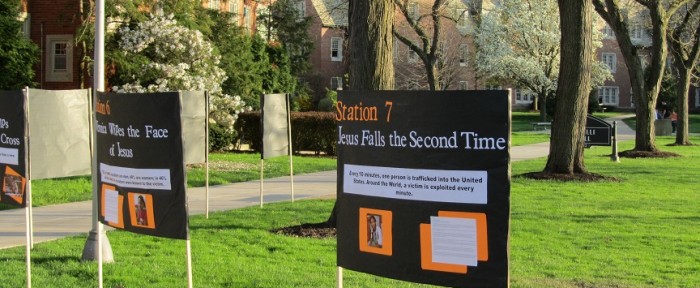 Human trafficking, or modern-day slavery is reported to be the second fastest growing crime in the world and is worth an estimated $32 billion per year, according to the United Nations Global Initiative to Fight Human Trafficking.

In December 2010, Gov. Ted Strickland signed into law an anti-human trafficking bill that now makes human trafficking a second-degree felony offense. Ohio joins 43 other states that have already established anti-trafficking measures.
The Students for Social Justice Human Trafficking Awareness Committee works to familiarize students with the issues of human trafficking and modern slavery, both domestically and abroad. Past events regarding human trafficking have included:
A showing of the movie, "Taken," in which a man's daughter is kidnapped and trafficked while abroad in Europe
The Stations of Modern-Day Slavery, a version of the Stations of the Cross that emphasize and detail the atrocities faced by victims of trafficking
A lecture by Theresa Flores, a social worker and Director of Awareness and Training at Gracehaven, a long-term rehabilitation facility providing shelter and security to girls under the age of 18 who are victims of commercial sexual exploitation, who from the ages of 15-17, was herself a victim of human trafficking.