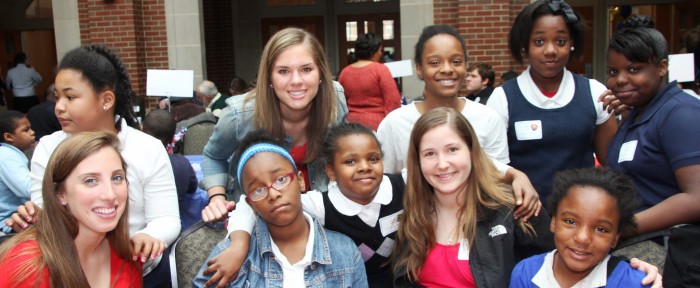 "It is knowledge that influences and equalizes the social condition of man; that gives to all, however different their political position, passions which are in common, and enjoyments which are universal."  –Benjamin Disraeli
Students for Social Justice is a student organization whose purpose is a commitment to two interrelated values of John Carroll's mission: intellectual inquiry that demands critical thinking, and engaging in social justice and community service that leads to social action.
We are a network of people passionate about different issues of social justice. We are seeking students who are willing to work toward developing the John Carroll community's awareness of social justice issues and to foster action and advocacy.
Meetings are the third Tuesday of the month from 8-9 p.m. in the Jardine Room. Students for Social Justice committees focus on several advocacy issues, raising awareness, hosting events, and contributing to the campus' involvement with these issues of social justice:
Fair Trade: Attempts to raise awareness and encourage the use of fair trade certified products on campus through several events including Fair Trade Fridays, Gifts that Give Twice, and Fair Trade Awareness Week.
Oxfam Hunger Awareness: Focuses on issues of hunger and food disparities, and organizes events including the Fatima Family Center Thanksgiving Food-Drive, and Make a Difference Day.
Health and Wellness: Attempts to raise awareness about issues regarding health and well-being, health care disparities; includes AIDS Awareness..
Caring for Kids: Events and efforts involving advocacy for children, including Danie's Day and Through the Eyes of a Child.
Worker's Rights: Advocating for a commitment to justice and Catholic Social Teaching.
Wrongful Conviction: Education and advocacy for safeguards in our legal system to ensure justice for all
Public Relations: Encompasses the 100 Blue Streaks Who Care program, and all PR concerns.