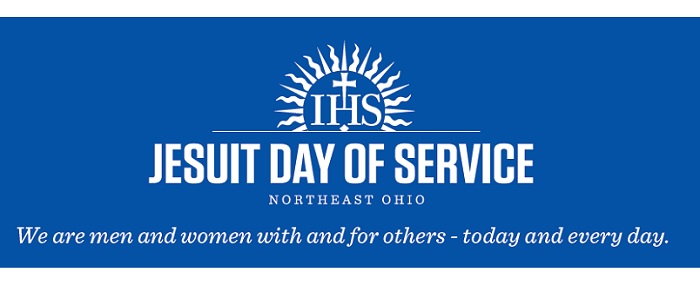 The 2019 Jesuit Day of Service will be held Saturday, April 27, 2019!
Visit www.jesuitdos.org for more information.
Click here to view photos from past Jesuit Days of Service!
The Jesuit Day of Service is a spring service event in which JCU students, alumni, faculty, and staff partner with the Tri-Street Homeowners Association, St. Francis Elementary School, Fatima Family Center, Eliza Bryant Village, and other area organizations in Cleveland, to lend a helping hand.
Activities include cleaning classrooms inside the school and completing yard work outside. Students have helped build community gardens, clean-up and renovate playgrounds, and cleaned the exterior of seniors' homes.
The Jesuit Day of Service at John Carroll began as Cultivating Community Day in spring 2005 as a class dedicated to learning about the economic, political, historical, and religious complexities of an urban neighborhood in Cleveland. The class explored issues of poverty in urban communities. The class culminated in a service day when students worked with Hough neighborhood residents to build a community garden, and worked with Saint Thomas Aquinas Elementary School to prepare for spring.
"Cultivating–a simple word that calls forth images of wonderfully, ripe, red tomatoes, crisp green lettuce–but in the context of an experience between college students and community members it becomes much more. It is a cultivation of friendship, of exchange, of the future. A learning opportunity for all and an opening for possibilities of understanding not just how a vegetable is to become ready for consumption but how the act of planting together can lead to a better glimpse of each other, our differences, our weaknesses, our strengths and most importantly, our commonalities. It is not just plants growing in Cultivating Community."
-Dr. Mariana Ortega, Professor of Philosophy
Inspired by the spirit of Saint Ignatius of Loyola, ten Cleveland institutions are united in serving our local communities in Northeast Ohio.
From cleaning classrooms, to painting, to mulching or other yard work, your help will go a long way in making a difference for our friends and neighbors.
Thank you to these loyal and dedicated institutions!
We are men and women with and for others–
today and everyday!