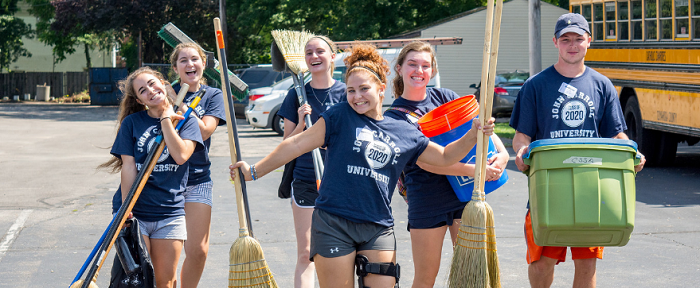 The Cleveland Neighborhood Project is part of Living the Mission Day to welcome all first-year students to John Carroll. This year it takes place on Thursday, August 24, 2017.
Teams of first-year students, accompanied by current JCU students, faculty, and staff will take part in a wide variety of service projects at local community partners in Cleveland's Hough neighborhood.
Faculty-Staff Leaders
Approximately 20 faculty and staff join 150 members of the incoming Class of 2021 and 40 student leaders for our annual Cleveland Neighborhood Project. This is also a University-sponsored event and is eligible for the use of Mission Leave.
This is a great chance to join us in introducing the service component of JCU's mission to our first-year students and to begin building relationships with the newest members of our campus community. Register here: 
Click here to see photos from last year!
---
Student Leaders
Student Leaders are integral to helping first-year students develop a commitment to service as part of JCU's mission. Your energy, enthusiasm, and willingness to model hard work will be an important part of the first-year students having a great experience!
What is expected of a Student Leader?
Participate in an informational meeting in spring 2017 (date TBD)
Return to campus early and prepare for the project (Sunday, August 20, or Monday, August 21 – Wednesday, August 23, 2017)
Lead a group on Living the Mission Day (Thursday, August 24, 2017)
The Student Leader application process for CNP 2017 is now closed. Contact Maryellen Callanan at mcallanan@jcu.edu with questions.
---
---