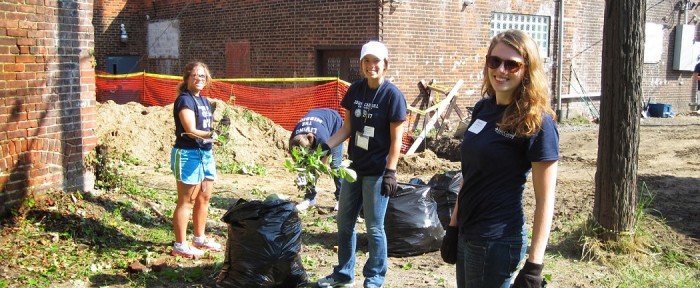 John Carroll University has a strong tradition of service to the Cleveland community and beyond. The Cleveland Neighborhood Project will help welcome all first-year students to this proud JCU tradition. This Fall (2014), as part of the University's commitment to Living the Mission, the Cleveland Neighborhood Project will take place on Thursday, August 28th.
Teams of first-year students, accompanied by current JCU students, faculty, staff, and administrators, will take part in a wide variety of service projects such as painting porches, yard work, and clean-up activities at a neighborhood center. The service project will take place at and around the Fatima Family Center in Cleveland's Hough community.
---
Faculty and Staff Members Interested in Participating – Click Here!
---
Student Leaders
Student Leaders are integral to helping first-year students develop a commitment to service as part of JCU's mission. Your energy, enthusiasm, and willingness to model hard work will be an important part of the first-year students having a great experience!
What is expected of a Student Leader?
Participate in an informational meeting in April
Return to campus early and prepare for the project on Tuesday, August 26th and Wednesday, August 27th.
Lead a group on Thursday, August 28th
Student leader registration is now closed for the 2014 Cleveland Neighborhood Project. CNP 2015 sign-ups will take place in Spring 2015 – check back!